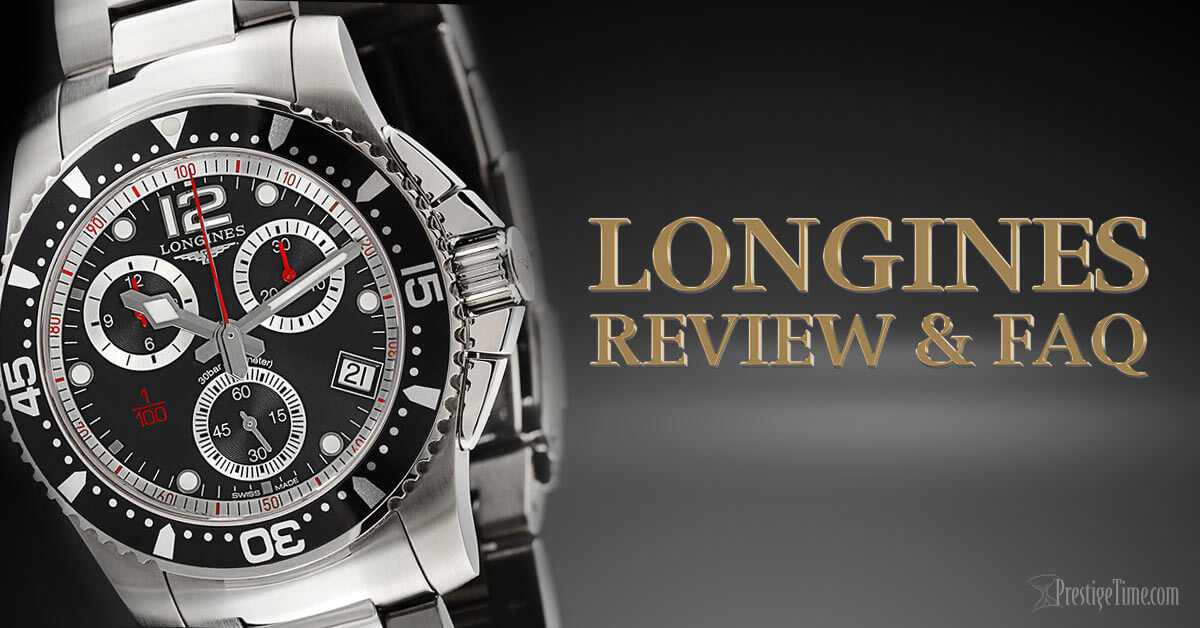 Longines Watches Review & FAQ
We will present the most frequently asked questions about Longines watches and answer them to address the concerns that many people have when considering to purchase one.
18 Top Questions About Longines Watches in 2020
Longines Watches Review & FAQ
Quality   -   Movements   -   Accuracy   -   Company   -   Prices   -   Value
---
Quality: Questions About The Quality of Their Watches
1.   Are Longines watches good?
Yes, they manufacture high-quality Swiss-made mechanical watches and quartz watches. They are one of the more popular watchmakers out there yet they are affordably priced compared to many other brands. They are backed by a two-year warranty which is still pretty much the average warranty duration in the luxury watch industry.   
2.  Are Longines Swiss-made watches?
Yes, they are made in St-Imier, Switzerland, and fit within the legal definition of the term Swiss Made. This means that the caliber/mechanical movement has been assembled in Switzerland, the final inspection took place in Switzerland and a minimum of 60% of the manufacturing costs were domestic.
3.  Are Longines watches waterproof?
This shouldn't be news to you but no watch is 100% waterproof. The FTC required that watchmakers stop using that term because it would be misleading to believe that any watch is waterproof implying that it is impervious to the effects of moisture and so they instead adopted the term water-resistant. The difference means that there is a limitation to the resistance to water that a watch will experience. Learn more about water resistance here.
---
Horology: Questions About Their Movements & Calibers
4.  Are Longines' wristwatches automatic?
 They make many Automatic watches. They also make battery-powered watches, as well as some Manual Wind watches.
5.  Are Longines made of real gold?
Many models have cases that are made of either 18kt rose gold or made of 18kt yellow gold. Those solid gold models usually cost around $2,500 or more. However, there are some models that look like gold but actually, either use PVD coating or they are gold plated and these models usually cost significantly less.
6.  Are Longines COSC certified?
Not all of their watches are, but there are many of their watches that are COSC certified and have the prestigious chronometer designation that comes along with said certification. Their chronometers also offer the higher accuracy and precision of a COSC Chronometer. A great example of a Longines chronometer watch would be any watch in the Record collection.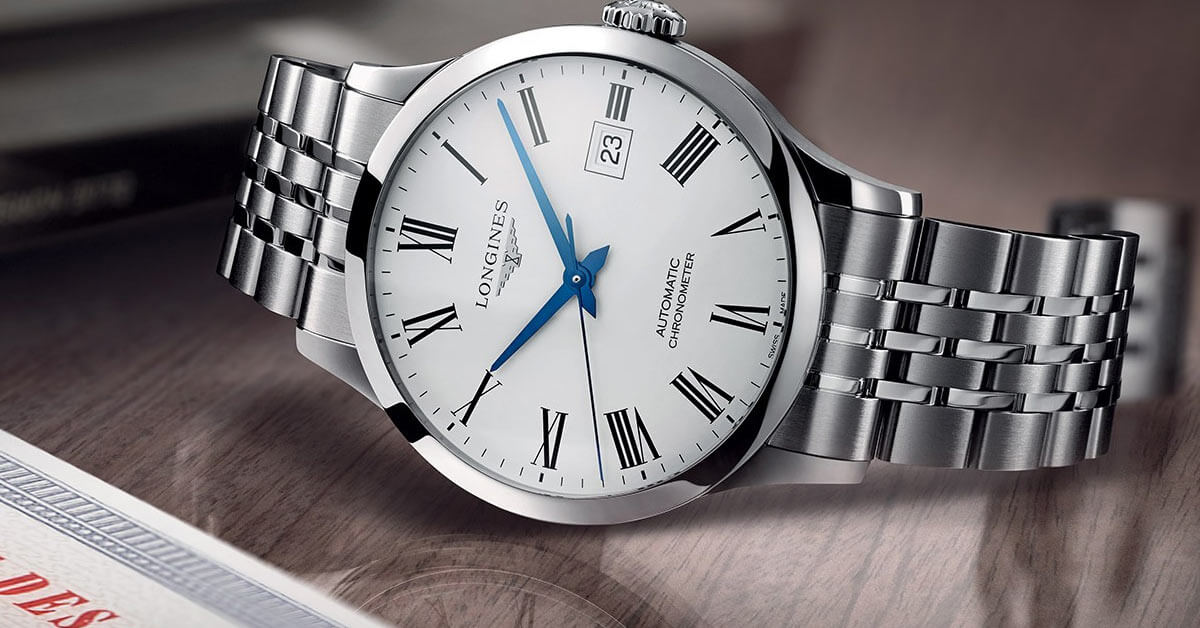 7.  What movement does Longines use?
They will typically use ETA movements or ébauche movements based on either an ETA base or some other prefabricated modular caliber. ETA is a company owned by The Swatch Group, the very same conglomerate which owns Longines. Vertical integration is what it's all about.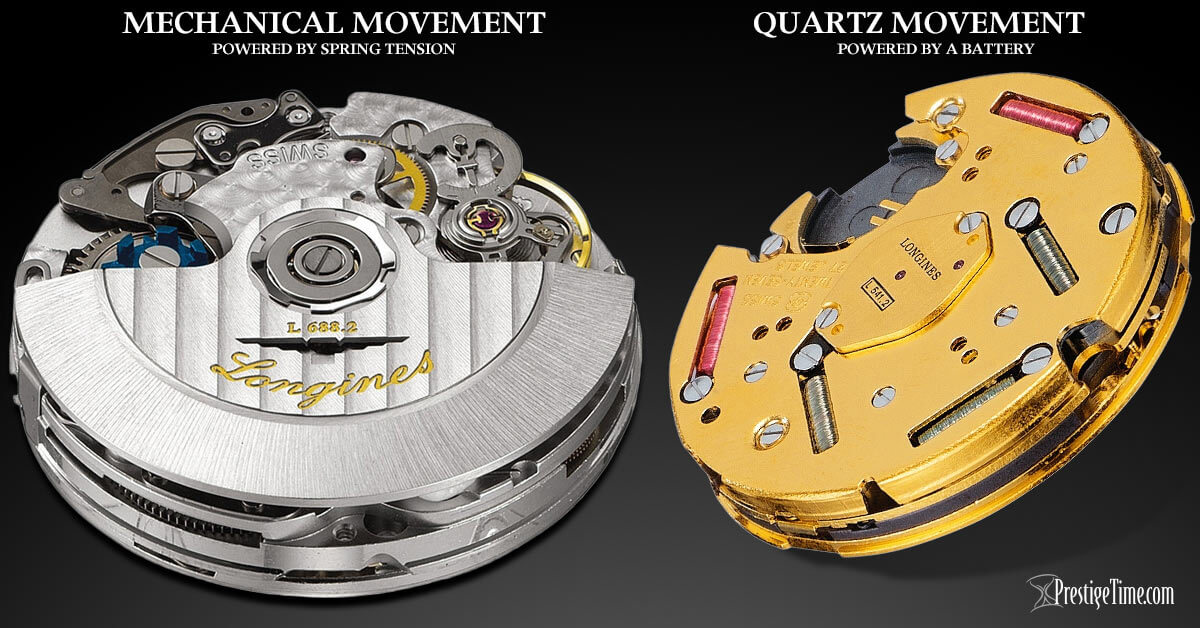 8.  Is a Longines a luxury watch?
Is Longines a luxury brand? Yes, but they are a lower market luxury watchmaker compared to many other high-end luxury watchmakers such as Patek Philippe, Rolex, Audemars Piguet, Breguet, and many others. Many would classify them as a more affordable and attainable luxury.
9.  Why are Longines watches so expensive?
Compared to most luxury watch brands their watches are very competitively priced. Possibly one of the most affordable recognized luxury watch brands out there. To some who are used to spending a small amount of money on a watch, they are expensive.
10. Why are Longines' wristwatches so cheap?
It's all a matter of perspective and who is asking the question. To those who buy high-end luxury watches, they are in fact very affordable and well-made watches but to some who spend very little on a watch, they would consider them to be expensive.
11. Are Longines timepieces worth the money?
They certainly offer great features at a fraction of the cost of many other watchmakers with similar or comparable features.
12. Are Longines watches valuable?
In this day and age, some models can easily sell on the preowned market for around $9,000. Their higher-end watches offer tremendous value since these are usually complicated mechanical timepieces that would sell for a whole lot more if they were from any other brand.
13. Is a Longines watch a good investment?
There is no sense in ever calling a luxury watch an investment. Investments are intended to allow your investment principal to appreciate in value. A watch, just like most consumer products, depreciate the moment you wear it for the first time. The rare occasions when watches go up in value are too few and far between to consider them as any type of investment such as real estate or some other type of financial security product.
---
Longines Evaluation: Questions About The Longines Company
14. Where do Longines watches come from?
Longines is the only watchmaker that never left their hometown. They are still manufactured in Switzerland in the town of St-Imier today.
15. Who owns the Longines watch company?
Is Longines owned by Omega? No, many people ask this question but the truth is a luxury conglomerate called the Swatch Group owns both of them, and several others too!  
16. Who sells Longines?
A network of boutiques, many authorized dealers (and many online watch sites like PrestigeTime.com).
17. Where does the Longines brand rank?
Is Longines a good brand? Longines is the 24th most recognizable Swiss brand in the world and the 5th most recognizable watch brand from Switzerland in the world. According to a recent study by Interbrand* (a brand valuation agency), they have an estimated brand value of 1,089 Billion CHF.
Sources & Citations: [1] See Interbrand 2016 report at https://www.rankingthebrands.com/PDF/Interbrand Best Swiss Brands 2016.pdf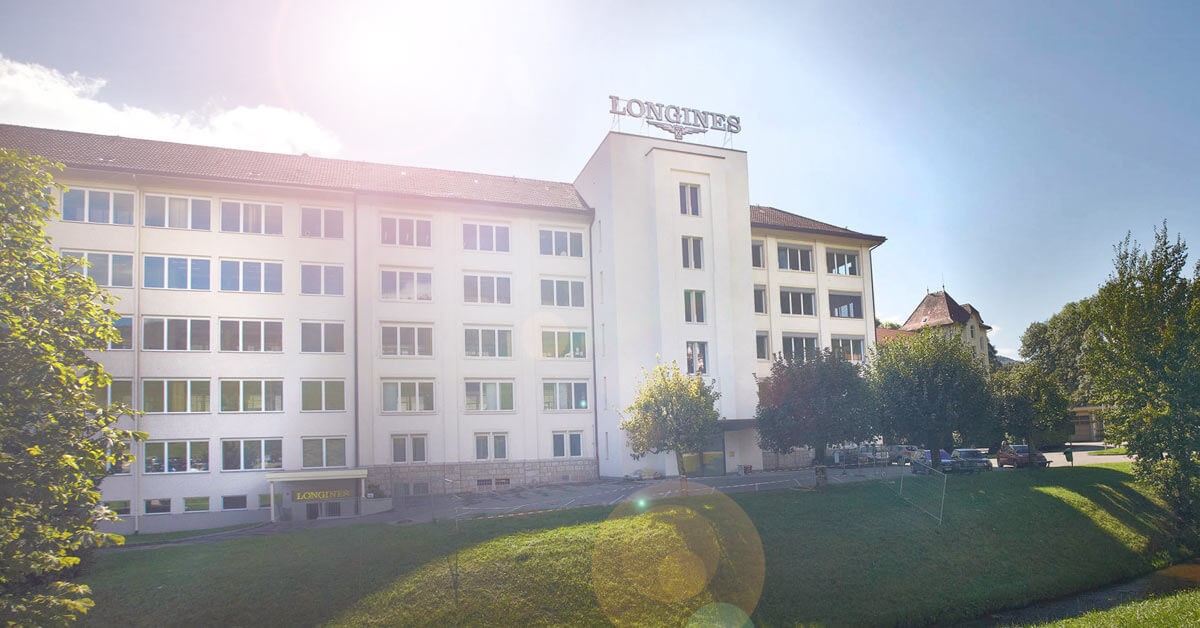 18. How does Longines compare with other brands?
We have written many watch reviews and brand comparisons for watches from this international brand, and articles about how this watchmaker compares in terms of its biggest competitors. Feel free to explore them using the following links.
---
Throughout its history, this watchmaker had many popular collections and even different series within these collections. A good example is the Heritage collection that has within it the Heritage Avigation and the Longines Heritage Military which are separate and very different looking series. Many watchmakers try to keep certain things consistent, even simple things such as the design of the hands or dial. This watchmaker, on the other hand, can have completely looking watches from one series to the next, even within the same collection. Feel free to browse the various collections of their new watches using the links below. You'll find their current releases and many ways to enhance your wrist presence with anything from classic elegance to sporty models for any occasion.