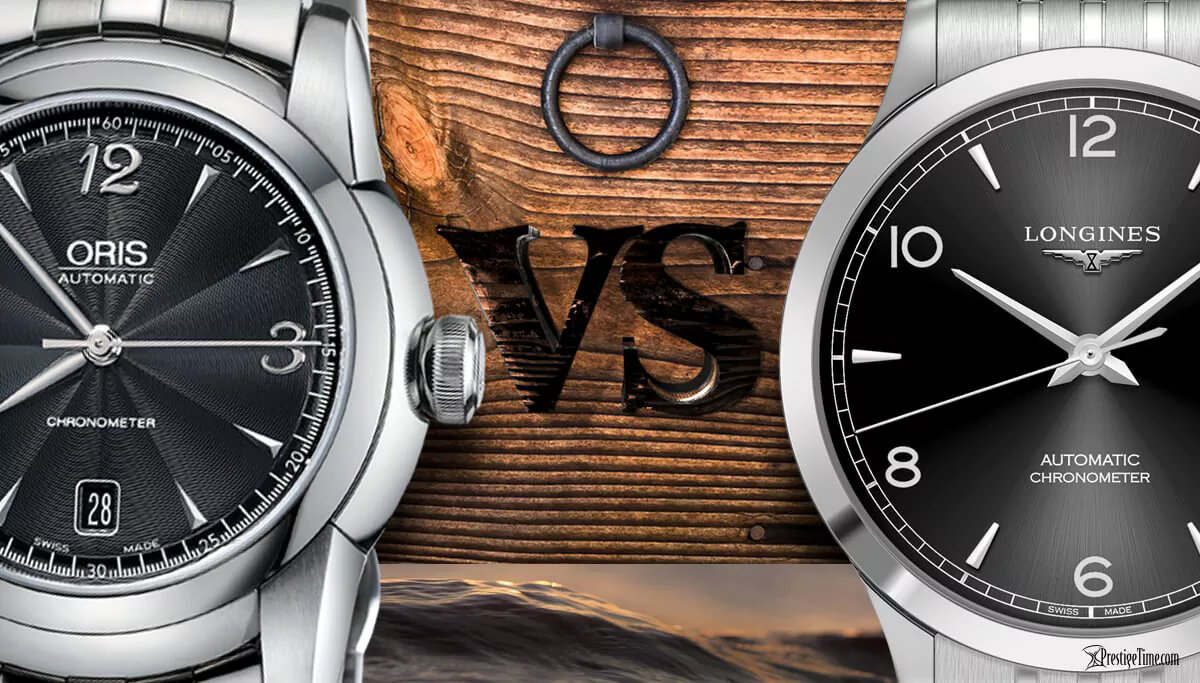 Longines VS Oris
Longines and Oris are often compared when considering the purchase of a new Swiss luxury watch. Let's benchmark them one against the other to see if Oris or Longines is better for you and your unique needs.
Comparison of Longines VS Oris
Both of these brands manufacture excellent quality watches but we are still often asked questions like: "What's better, Oris or Longines?". You can literally search for hours in hopes of finding an answer that will satisfy you from all the watch addicts on online forums and Twitter. However, to really answer these questions properly, one needs to consider the context of the question because it can mean many different things to many different people. For example:
"Which is better Longines or Oris?" can mean any of the following:
(Click on any of the questions below to jump to the answer section.)
That said, let's make a case and address each of these questions to give you a better picture of how you can compare the two watchmakers to see which is better suited for you and your unique needs. Shall we?
Accuracy & Precision
In the watchmaking industry, this is called 'chronometry' which is defined as the science of accurate time measurement. The Swiss Institute of Chronometry (known by its original French name 'Controle Officiel Suisse des Chronomètres') or COSC for short is the industry standard for testing movements to ensure high precision.
First, the movement is removed from the case and sent to COSC for testing. Once they pass a series of tests, the mechanical movement (also known as a caliber) is then awarded the designation of 'Chronometer' and receives a COSC certificate attesting to its accuracy. The mechanical caliber must achieve an accuracy of no less than -4/+6 seconds of acceptable daily deviation.
For a mechanical watch, this is an excellent score. However, a COSC certificate comes with the added expense of obtaining the certificate from COSC. There are some brands that opt-out of the COSC testing and do their testing in-house to keep prices down and profits up.

Both Oris and Longines have watches that come with a COSC certificate and will have the designation of Chronometer proudly displayed on the dial as shown in the above image. Oris Artelier Chronometer Date is a great example of a highly accurate Oris watch. Longines also has some great Chronometers such as the watches found in the Longines Record collection.
Brand Popularity & Brand Value
Longines is a historically rich brand that has been creating Swiss watches for what seems like forever. In fact, their famous winged logo is the very first trademarked watch logo ever recorded. There are only a few Swiss watch brands that have more brand recall and brand value than Longines.
According to a recent report by Interbrand, an agency that evaluates Swiss companies and brands and ranks the top 50 Swiss brands, Longines is the 5 th most popular Swiss watch brand in the world. The only Swiss watch brands that outrank them on this list are, Rolex, Omega, Patek Philippe, and Chopard watches; in that order. Of course, there are also Swiss chocolatiers and Swiss banks in the mix too but in terms of watchmakers, they are #5.
Oris is not in the Top-50 list of Swiss brands like Longines. However, Oris is a very popular, albeit less world-renowned brand compared to Longines. You need to also consider the fact that Longines is a subsidiary of Swatch Group, a much larger parent company that owns many of the larger, more-popular Swiss luxury watch brands. There are only a handful of privately-held Swiss watch companies left in the world that have the brand recall of Oris (which is considered very impressive). Is Oris a luxury brand? The term is relative to who is asking the question. They are considered a luxury brand for those who usually spend less than $500 on a watch. For those in the habit of spending five-figures and up on a watch, Oris is not as luxurious. Most would consider them a lower-market or shall we say more attainable luxury brand.
Craftsmanship
In terms of watchmaking know-how, both brands are pretty much equal. Oris, on one hand, only manufactures mechanical watches whereas Longines produces both mechanical and quartz watches. Mechanical watches, in general, are more difficult to produce.
Oris is known to have a signature red rotor design. Top-shelf Oris watches tend to be more heavy-duty sporty models with a design made for diving professionals. Top-of-the-line Longines watches tend to be more refined classic watches with more mechanical complications. Some popular collections of their classic watches are called the Longines Heritage Classic and the Flagship Heritage collections.
Longines has many sports models as well such as the Longines Conquest collection and the Hydroconquest series. In general, theirs is more of a refined watch. They also have about 400% more different watches for ladies when compared to Oris with some exquisite solid gold models on the higher end of the price range.

Durability
In terms of durability, both brands do a great job, but I would venture to say that Oris watches are more rugged and therefore require less service and repairs. An Oris watch, (especially a high-end sports model) is built a bit tougher and is more equipped to handle day-to-day wear.
Water Resistance
Longines has the Hydroconquest series which offers a case with water resistance up to 300m/1000ft which is good for enough swimming, light snorkeling, and showering ( not in hot water though), but nothing too adventurous.
Oris watches make some excellent diving watches with a rotating bezel ring. This bezel is used to set time markers when diving. Another feature that is found on most dive watches is the screw-down winding crown that seals the case preventing water from getting in from outside the case. A great example of a dive watch from Oris is a style called the Oris ProDiver Pointer Moon featuring a case with 1000m/3280ft of water resistance. This particular version of the ProDiver is not only an excellent diver's watch but will also display the hour, minutes, seconds, and tidal range that coincides with the phase of the moon; something important to divers.
It's important to get a realistic idea of what the water-resistance on a watch means and how to take proper care of a diving watch to ensure longevity and ensure you will keep the warranty intact. Below is a great example of an Oris Diving watch.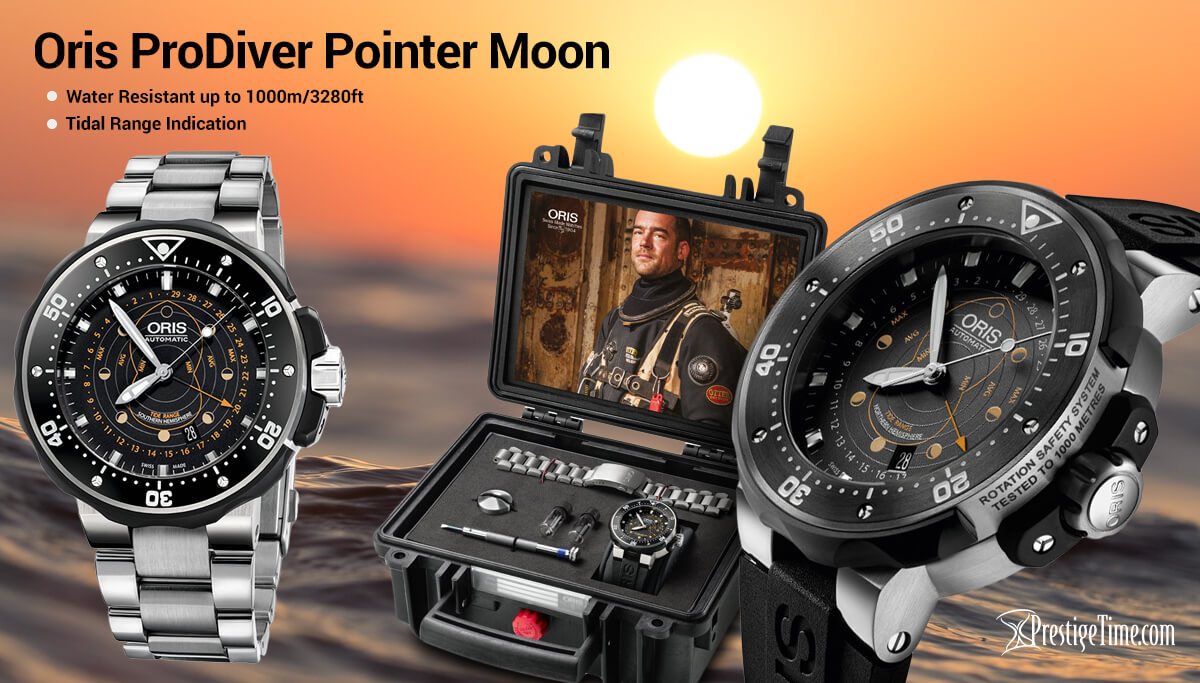 Resale Value
Longines and Oris are neck-and-neck when it comes to average resale value and neither one would fetch a higher average percentage of your original cost than the other when sold as a pre-owned. However, decades of experience in the watch business shows that previously owned Oris watches will tend to sell faster compared to pre-owned watches from Longines.
Pricing
These brands are both considered value luxury watches. This means you can pick an entry-level model for around or under $1,000 or less.
Longines has a lower price point for an entry-level watch which you can find for around $600-$700. However, it's important to compare apples to apples. The entry-level Longines watches that I'm speaking of are using low-cost quartz movements whereas the cheapest Oris still uses a self-winding mechanical automatic movement. So in terms of the price of Oris watches there is added value there compared to the least expensive Longines watches.
---
If you enjoyed this comparison and feel that others would enjoy it too, please like and share it on Facebook and feel free to follow us on Facebook and Instagram! Search through our large choice of fine watches and discover great deals on our site using the 'SHOP' link in the main menu of this page.