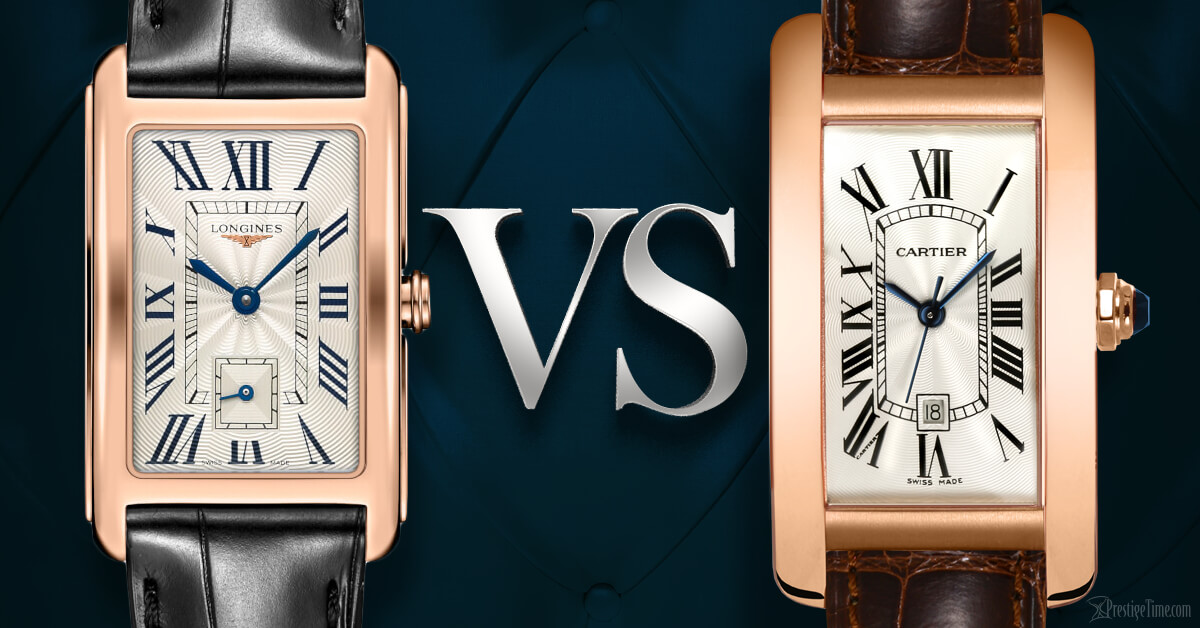 Longines VS Cartier: Comparison & Review
Let's compare and benchmark two top-rated Swiss watch brands to see which is best for you.
These two brands have been in business for over a century, in fact, Longines has been in the industry since 1832 and was the first watch brand to trademark their logo.
Cartier was in business since 1847. These two brands are quite close in age. Cartier is famous for being the jeweler of royalty, and as an internationally renowned jeweler, they were in a great position to cross-sell their watches to their high society clientele. With the influence they had in the fashion world, it was not very difficult for them to get their watches in the hearts and minds of people around the world. 
Which is the right brand for you though and which brand makes better watches? People will often want to broad-brush an answer to such questions but to answer it accurately, you need first to identify what you are looking for in a watch. Let's compare them in a few ways, shall we?
Mechanical Watches
If you are specifically looking for a mechanical Swiss made watch, you can rest assured that both brands have a large selection from which to browse. Each of these two brands makes automatic (self-winding) watches as well as hand-wound watches. Longines has mechanical watches that start at a significantly lower price point though compared to Cartier.
Prices:
An entry-level mechanical watch from Cartier such as the Ronde Solo Automatic 36mm will come at a list price of around $3,150 whereas a Longines Automatic can be purchased for around $1,000 or sometimes even less.
---
Quartz Watches
Both brands also created battery-powered quartz watches. Longines in particular, has a special series of Very High Precision Quartz watches known as the Conquest V.H.P. and Conquest V.H.P. Chronographs which quite frankly, deserve their very own detailed blog post.
Prices:
An entry-level Cartier quartz watch such as the Cartier Tank Solo quartz will cost you around three times the amount of a similar looking rectangular shaped quartz watch from Longines such as the DolceVita quartz.
The bottom line is that in terms of pricing, a Longines is a more affordable Swiss made watch brand. You can get a Swiss made mechanical watch from Longines at a very affordable price when compared to Cartier.
---
Brand Prestige & Popularity
To understand why prices are so different, you need to consider the fact that as a brand, Cartier is on a very different level of prestige than Longines. Cartier is regarded as a luxury brand and has an established household name for their high-end luxury jewelry and watches.
Being a more up-market brand has its benefits too. Namely, they can charge significantly more for a watch even if it has an inexpensive battery powered quartz movement.
That's not to say that Longines isn't a highly recognized Swiss watch brand. It certainly is. In fact, according to a report by a brand consultancy called Interbrand, Longines is, in fact, the 5th most popular Swiss watch brand.
Cartier never made it to this report since essentially the Cartier company is not Swiss but is based in France, but their watch production is in Switzerland. They are the world's 59th most popular brand; as is out of all companies & brands worldwide, not just swiss watch brands.
[Sources: * Forbes (for Cartier watches) ** Interbrand for Longines Watches ]
---
High Horology
When it comes to watchmaking know-how, this is another area that Cartier eclipses Longines. When it comes to high-complication watches, Longines has a Master Complications series. Nevertheless, I feel that a chronograph paired with a moon-phase complication is not quite as impressive as some of Cartier's high horology watches.
A great example is a completely re-invented moon phase alongside a tourbillon complication like Cartier had on the Rotonde de Cartier Earth-Moon. Another great example is a day/night retrograde moon phases as they have in the Rotonde de Cartier series.
---
Diving Watches 
Both Longines and Cartier make dive watches. Longines has the Longines Hydroconquest collection and Cartier has the Calibre de Cartier Diver series. Both offer 300m/1000ft  water resistance which is water resistant enough for some impact water sports like scuba diving and board diving, swimming etc.
These probably wouldn't be suitable for any deepsea diving though. For some serious professional diver watches see our article on the Rolex Deepsea and the Rolex Sea-Dweller. These offer 12,800ft and 4,000ft of water resistance. These are the kind of watches you would need to touch down on the lowest depths of the ocean bed and deepest points of the world's seas.
If you are looking for a more affordable professional dive watch try the Oris professional diver's watches such as the Dive Control watch,  ProDiver watches or even the Force Recon GMT Diver. Any of these options offer at the very least 1000m/3280ft of water resistance.
---
Diamond Watches
Both Longines and Cartier make some beautiful jewelry watches which are made with solid 18kt gold cases and feature glittering diamonds. However, when comparing jewelry watches form these two brands is pointless. Cartier is one of the world's most famous super high-end jewelers. Cartier has an immeasurable amount of experience in producing masterfully crafted jewelry watches under their belt which demonstrably showcases their ingenuity and creativity in this craft.
---
Conclusion
Are these brands even comparable? While they have some watches that look similar, you probably can't compare these at a brand level, but this Cartier VS Longines comparison and review should give you an insight about just how they different they are and what makes each brand unique.
Good advice would be to look for what's essential to your specific needs (unless you're absolutely determined to buy a watch from a specific brand, that is). For example: Look for features that interest you the most and then browse by the brands that offer watches with those desired features or specifications. Doing this also provides you with a great opportunity to discover new watch brands!
If you enjoyed this comparison and feel that others would enjoy it too, please like and share it. Thanks!