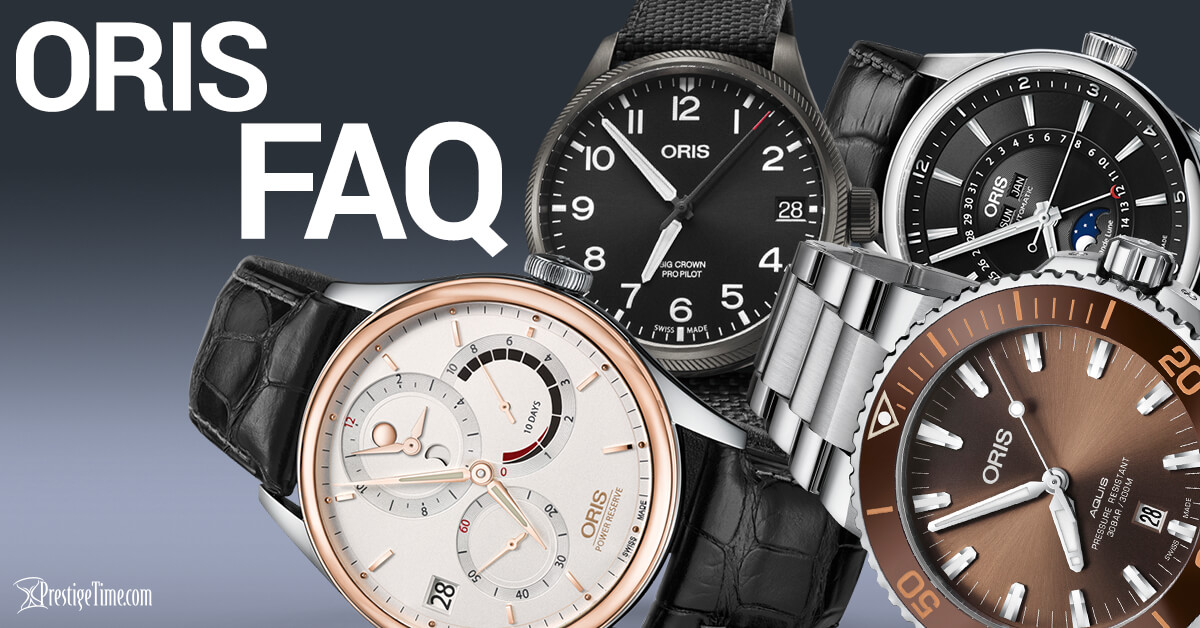 Oris Watches Review & FAQ
In our detailed Oris review, we ask the most frequently asked questions and answer them to address the concerns that people have when considering to purchase an Oris.
19 Top Questions About Oris Watches in 2021
Movements    -    Company    -    Quality    -    Accuracy    -    Prices    -    Value
Oris Watch Reviews: Questions About Oris Movements & Calibers:
1. What Movements Do Oris Watches Use?
Great question! They use quite a few different mechanical movements. In case what you mean is: "Does Oris use battery-powered Quartz movements?" the answer is no. They only produce wristwatches that are powered by springs; mechanical calibers.
2. Are Oris Movements In-House Movements?
Many of their calibers are derived from ébauche movements which are a template of sorts where Oris receives an unfinished movement that is modular and allows them to add their own features to accommodate the needs of whichever watch in which it will be used.
One example would be the Big Crown ProPilot Worldtimer which is a watch with a GMT (dual time zone function) the movement used in this watch is called the Oris 690 but the Oris caliber 690 is actually using a base of an ETA2836-2 caliber which is an automatic caliber made by ETA, a subsidiary of a watchmaking conglomerate called Swatch Group. So, is there an Oris in house movement? If not, is that bad?
This is not to say that Oris's movements are inferior. ETA makes great movements and Oris makes great improvements to them. Some believe that a brand's prestige is directly linked to how much of its own components are made entirely in-house. Most watchmakers are not equipped to do everything in-house but the ones that do are widely celebrated.
Oris Review: Questions About The Oris Company:
3. Who Makes Oris Watches?
Oris SA is the official corporate name for the business entity that makes Oris watches.
4. Who Owns Oris Watches?
Who owns the Oris watch company? Are they publicly traded? No, Oris SA is a privately owned company that has been in operation since 1906.
5. Are Oris Watches Made in Switzerland
Yes. Oris timepieces are genuine Swiss Made watches.
6. Where Are Oris Watches Made?
Hölstein, Switzerland. The name Oris is actually derived from the name of a valley and a brook near Hölstein in Northwest Switzerland.
The company headquarters has been in the same location ever since the two watchmakers from Le Locle Georges Christian & Paul Cattin decided to open up shop there in 1904 and has been extended to accommodate the ever-growing company.
7. Where Are Oris Watches Manufactured?
The factory and manufacture building for Oris SA is located at Ribigasse 1, CH-4424 Hölstein, Switzerland.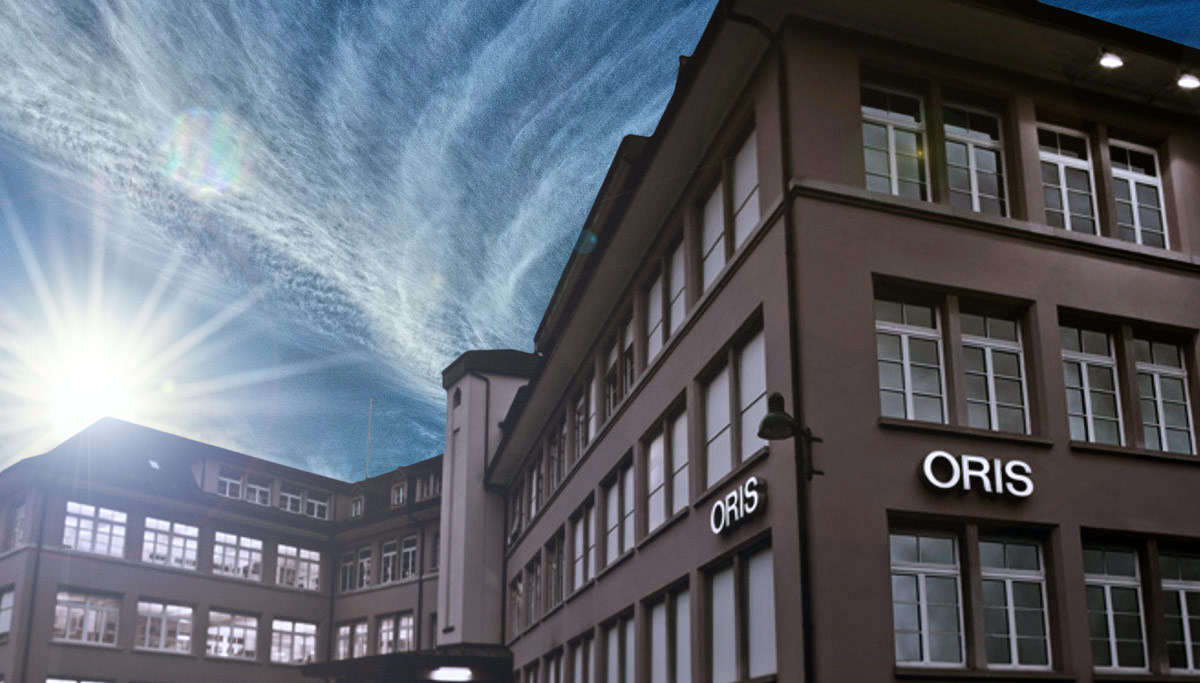 Oris Quality Review: Questions About The Quality of Oris Watches:
8. How Good Are Oris Watches?
Is Oris a good watch? They make solid watches. Many would compare the quality to be on par with that of TAG Heuer and Longines. Their movements can easily be spotted with their distinctive red rotors.
9. What Are Oris Watches Like?
Oris wristwatches can be classified as versatile with timepieces in many categories which fall within one of four main groups or "watch families": Aviation, Diving, Motorsport, & Culture
The Aviation collection contains many mechanical watches geared towards pilots, aviators, and other aeronauts. 
The Motorsport collection is made for Motor Racing professionals such as racecar drivers etc.
The Diving collection was made for Scuba divers, diving instructors, professional swimmers, and other sub-aquatic activities. A great example is the Oris Divers Sixty Five. The Oris Divers Sixty Five is the latest and most recent successor to the Divers Sixty. Another fine example of a popular Oris dive watch is the Oris Divers Carl Brashear Limited Edition with a dark blue gradient (fumé) dial and the very vintage looking bronze case.
The Culture collection is comprised of more classic looking timepieces and limited editions paying tribute to various artistic and cultural influences.
10. How Are Oris Watches?
Are you asking the question in the context of "Are Oris watches worth the money?". They offer lots of bang for the buck. Is Oris a luxury watch? The type of watch you would get from Oris exceeds what you would expect for their considerably lower price tag when compared to other luxury watch brands that have Swiss-made watches with the very same features. They also come with a 2-year warranty. Some may consider Oris a value-added luxury brand that is on the very affordable side of the market while others who collect very high-end and more up-market watches would completely disagree. It really depends on who is looking at it. 
Below is a selection of Oris timepieces. Click on any of the images below for more information about the watch.
Questions About Oris Accuracy:
11. How Accurate Are Oris Watches?
That would depend entirely on how it's regulated. Any Oris movement, be it one that is an ETA based movement or even a Selitta based caliber can be regulated within the parameters of accuracy consistent with some of the best in the business.
12. Are Oris Watches Reliable?
Yes, they are very reliable.
13. Are Oris Watches COSC Certified?
There are some that do come with a COSC certificate.
Questions About Oris Prices:
14. Are Oris Watches Luxury?
They are what some would consider affordable luxury or value-added luxury. Oris is by no stretch considered high-horology or high-end compared to brands such as Patek Philippe, Vacheron Constantin, or Audemars Piguet. They don't even compare to lower market brands such as Rolex or even Omega but they are Swiss-made mechanical wristwatches that deliver both high-quality and value.
15. Why Are Oris Watches So Expensive?
Compared to most luxury Swiss watch brands Oris is at the most affordable end when you consider the design and value that they provide. They're actually well priced. It's important at this point to note that Oris only makes mechanical wristwatches. Compare that to a new, lower-market fashion brand like Michael Kors, which are usually powered by mediocre calibers and, more often than not, a cheap $2 Japanese Quartz movement. Oris, on the other hand, is actually very well priced comparatively speaking especially considering what's "under the hood". 
16. How Much Does Oris Watches Cost?
Oris wristwatches start with a list price of $1150 but you can always pick one up from our website at a discounted rate of anywhere from 15% to 40% off the retail price.
Questions About The Value Of Oris Watches:
17. Are Oris Watches A Good Value?
Oris watches offer possibly the best value in the Swiss-made watch industry. Most other Swiss watchmakers, such as TAG Heuer for example, can only offer battery-powered quartz wristwatches at that price point. So yes, a resounding yes. They are in fact an excellent value.
18. Why Are Oris Watches So Cheap?
Oris had built its brand around the slogan of "Real watches for Real People". They market their watches to the everyday Joe and your average layman. Their mission was to create high-quality timepieces that are also affordable and this is why there are so many affordable Oris wristwatches.
Chances are, because of the quality they offer, Oris could charge more for their product if they wanted to, and they would get it. But that would close off their ability to target a larger audience of people who can only afford the watch at a lower price.
It seems that their strategy is to make less profit off each watch but at the same time sell more watches and have more people in the world wearing their watches and hence advertising their brand.
19. Do Oris Watches Hold Their Value?
No. Most people who think of a luxury watch as some kind of investment are wrong to think so. Investments are meant to appreciate over time. Watches, on the other hand, are more like cars. They require maintenance every few years and they lose a percentage of their value the first time you use it.
Most brands are this way with few exceptions such as Rolex watches which hold their value better than any other brand and Patek Philippe which often will appreciate with time on certain more exclusive models. Otherwise, it would be a mistake to think that if you buy a watch, that you can expect the price to either stay the same or to even go up in value.
These types of things happen rarely enough that it's safe to say that a watch is not an investment like normal securities or like real estate. Luxury watches are a luxury consumer product, and unless you plan on renting them out, they're not the type of assets that generate any kind of income.