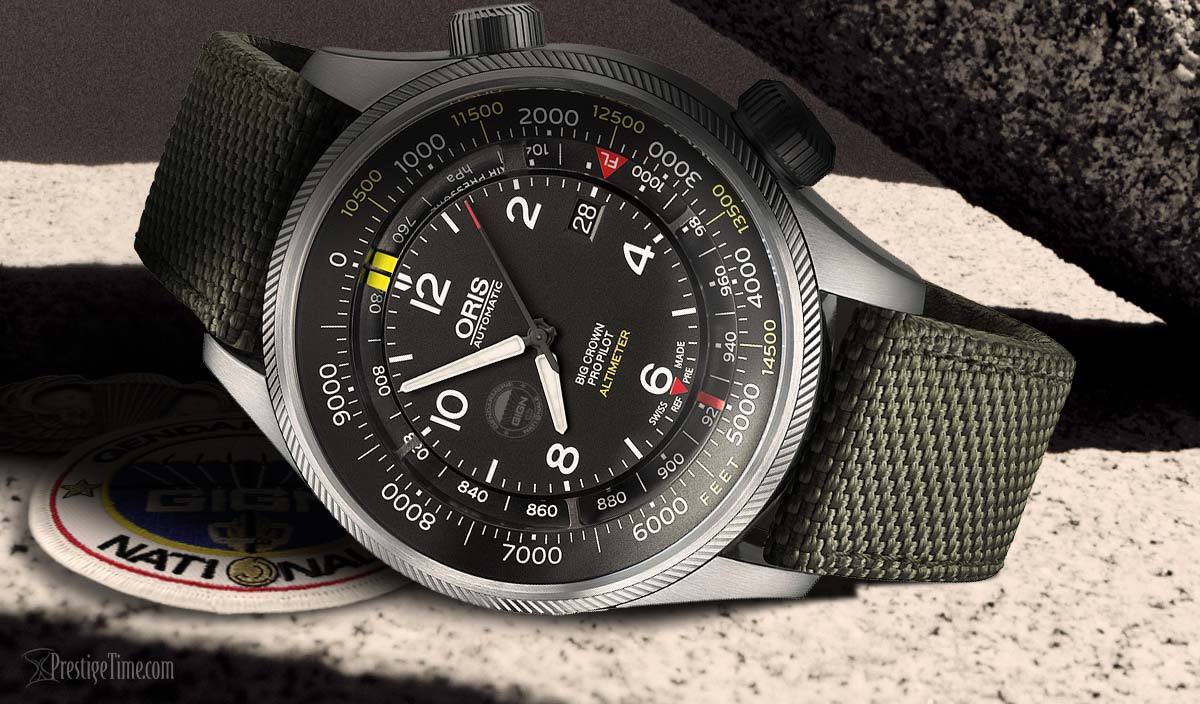 Oris Big Crown ProPilot Altimeter Review
Their Aviation collection would not be complete without a few watches for pilots that can measure altitude. Let's do an all-systems check on the Oris Big Crown ProPilot Altimeter.
Oris has numerous pilot watches, but what differentiates the Big Crown ProPilot from other aviator wristwatches is the mechanical altimeter function.
Oris also recognized the different types of pilots that require different types of altimeters. The altimeter watches for American pilots use feet instead of the metric system which is used everywhere else.
So Oris created mechanical altimeter watches with both systems; one measures the altitude in feet and the other pilot's altimeter watch uses the meter scale.
HANDS:

 The thick luminous-filled hands offer excellent visibility in low light conditions such as nighttime flying.



NUMERALS:

 Easy-to-read large numerals offer a high contrast over the dark dial. Another visibility enhancement.



BEZEL:

 Inspired by the shape and pattern of the turbines in a jet engine, the bezel has a nice coined edge.



CROWNS:

 Oversized Crowns are a signature of the Oris Big Crown watches. This particular model has two screw-down crowns. One at 2 o'clock to set the time and date and another at 4 o'clock to calibrate the altimeter which measures changes in barometric pressure.



CASE:

 Heavy-duty 47mm case measuring 47mm wide and 55mm lug to lug and to house the altimeter inside it is 18mm thick.



MOVEMENT:

 The Oris caliber 733 is a self-winding Sellitta SW200-01-based movement with an approximate power reserve of 38 hours. The 26-jewel Oris 733 automatic movement is a 3-hand caliber with a date function.



ALTIMETER:

 The outer ring shows the altitude. The inner ring displays the air pressure. Oris did a great job at making this information stand out on the watch by cleverly using different high-contrast colors in the design.



BRACELET:

 The watch is available on either a fabric strap or a steel bracelet. Because of the size of the watch case, some prefer the fabric strap since it is built tough to handle the weight of the watch without adding any noticeable weight on the wrist.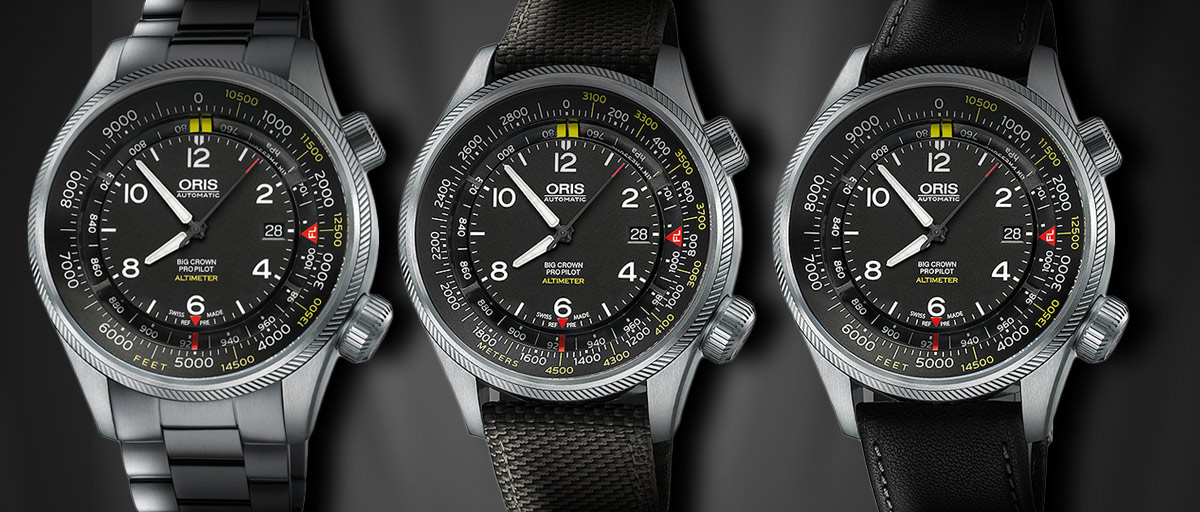 Oris's history of outfitting the military and special forces continues with a new limited edition.
Some of the most unsung heroes are those that serve and protect. They come in all shapes and forms from law enforcement to military personnel. Many of the latter sacrifice their very lives so that we can enjoy ours. The least we can do is try everything we can to ensure that they are given the same chance at survival as us.
France's National Gendarmerie Intervention Group is known as "Groupe d'intervention de la Gendarmerie nationale" or GIGN for short. It is an organization that was established shortly after the Munich massacre. They are a specialized unit that fights terror, organized crime, and anything else in the world that threatens the freedom of France or its citizens.
They have approximately three hundred and eighty operatives which include paratroopers of the highest caliber. These units are ready at a moment's notice to jump out of a plane and risk their lives to complete all sorts of operations including tactical missions such as rescue operations, hostage situations, and such.
These units have lots of high-tech gadgets that feed critical data about the jump and the mission; information that can keep you alive such as how far the ground below you is when doing a midnight jump. Oris watches recognized that there are certain law enforcement and military professionals that rely heavily on electronics to ensure their safety and provided a solution for many of them.
While as a whole we all are becoming more and more reliant on gadgets, smartphones, and other devices, sometimes they fail us, and what then?
The watchmaker has been outfitting Special Forces units and military personnel over the years. Units such as the US Navy Seals and Italian Special Forces. Most recently, a new unit has called on Oris to assist them in securing their troops.
While they rely on these types of electronics, there is always the risk that they won't work when they need them the most. The GIGN looked no further than Oris watches, one of the leading Swiss luxury watchmakers to solve this issue.
As a backup plan and to show their admiration for the bravery and selflessness of the GIGN, Oris made a limited edition of their Big Crown ProPilot Altimeter, their iconic watch series which was the first to ever have a way for pilots and paratroopers to measure altitude with a functional mechanical altimeter. The new watch was named the Oris GIGN Edition Limitée (French for limited edition) and features the unit's logo on the dial at the 9 o'clock position as well as on the case back.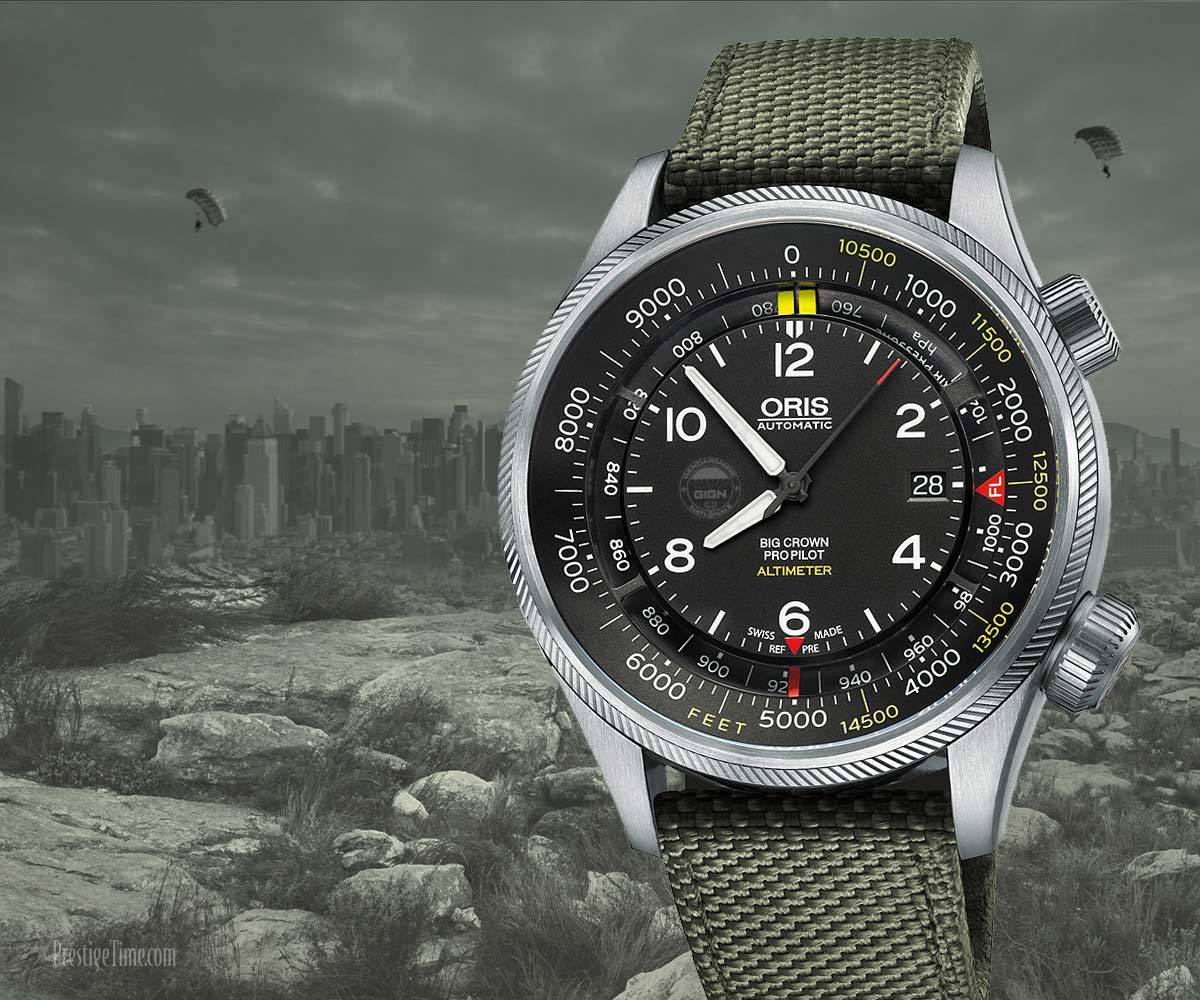 This watch which is part of the Aviation watch collection of Oris watches is expected to roll out in September and is limited to only 500 pieces that are available for civilians to purchase in addition to another limited edition with a different insignia which is given exclusively to the paratroopers at the GIGN for tactical use.
If you enjoyed this review, please share it with others on your social networks. 
Have something to say about this review? Let us know in the comments section below.