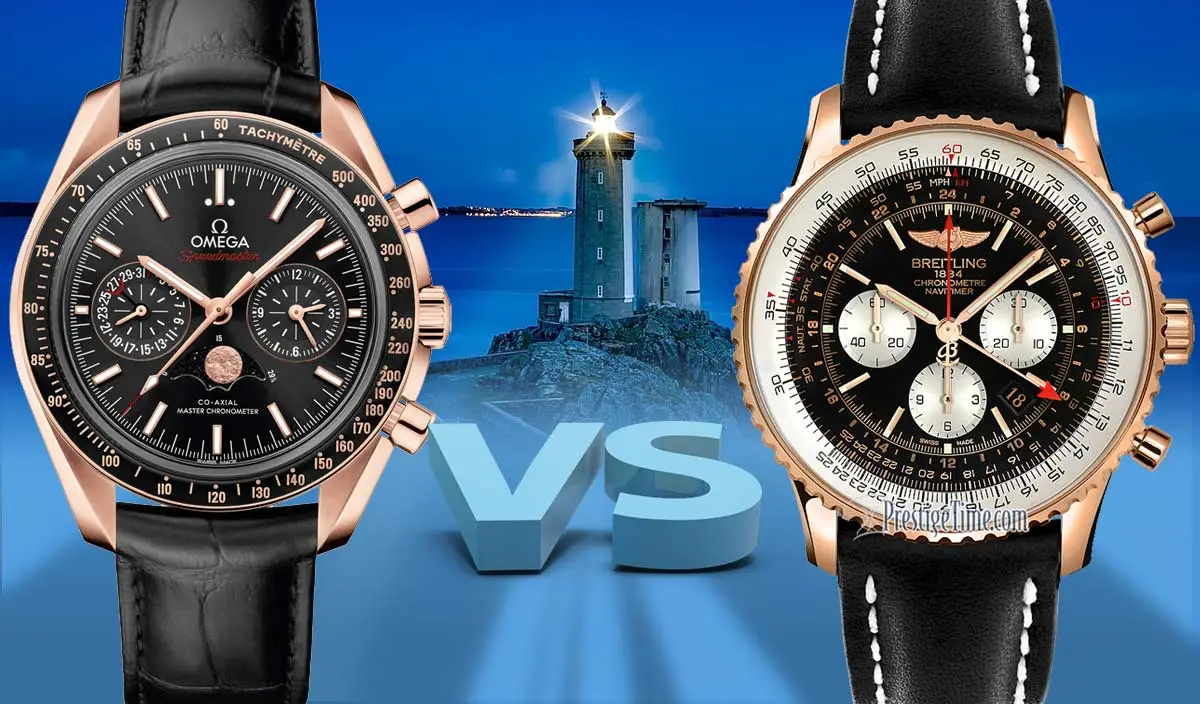 Omega VS Breitling - Full Comparison
Which one of these two brands is the best?
Omega VS Breitling: Which is Best?
Our watch experts are often asked "Which is a better brand, Omega or Breitling?" and answering this question properly depends on the context of the question. Let's cover every angle, shall we?
These two brands are often highly considered when one is on the lookout for a new high-end watch. Both Omega and Breitling have a strong history as top quality watch brands, but a few questions need to be answered.
Quality and Craftsmanship of Breitling VS Omega Watches
Let's set the record straight. Whether you buy an Omega or Breitling watch you will receive a top-quality watch crafted by a highly respected watchmaker. Both watch brands offer their own unique innovations and strengths.
Breitling produces many watches that are marketed as watches for professionals. This, of course, refers to their many different timepieces that are made for pilots, astronauts, nautical professionals, diving professionals, search and rescue teams and more. This innovative brand even produced a watch that has a tracking beacon built into it which would come in handy in the event of natural disaster or some other form of danger. Breitling also lets you customize each watch with the Breitling watch band of your choice, Omega doesn't work this way.
Omega has several great watches for professional divers, such as the Seamaster PloProf 1200m which offers 1,200 meters of water resistance. They also produce some impressive chronographs (watches with a stopwatch function) and the Omega Speedmaster Moonwatch pictured in the video below is a good example of such a watch. This function serves well for time-sensitive sports such as various forms of racing. They are a newer derivative of the original Omega watch that was there when Buzz Aldrin wore on the lunar surface.
Pricing of Omega VS Breitling Watches
With regards to their pricing, you can get an entry-level Omega or an entry-level Breitling for pretty much the same price point, the most affordable new watches from both brands start at under $3,000. List prices for the most affordable models of the Omega Constellation, Aqua Terra are around $2,700 and Breitling Colt watches are around the same MSRP give or take a few dollars. For your convenience, you can browse both brands using the buttons below (right-click and open in a new tab) as you read this comparison.
Brand Comparison: Who is More Popular, Omega or Breitling?
In terms of popularity, there are 16 brands of Swiss watches that rank in the top 50 Swiss brands. You can see just how important watchmaking is in Switzerland and how big these brands really are. Here's how Breitling versus Omega compares.
Omega is the #7 most recognized Swiss company worldwide* and just after Rolex at the #1 position, Omega is the #2 most recognizable Swiss watch brand with almost 70% brand recognition internationally.
Breitling is in position #41 of the same top 50* Swiss brands making Breitling the 15th most recognizable Swiss watch brand in the world. Are they a major brand? Yes! Very major, but more people recognize an Omega.
So in terms of how many comments you'll get if you wore each watch, chances are, you will hear "Hey, Nice Omega watch!" more often since a higher percentage of people (many of which are not "watch people" per se) will remember Omega compared to Breitling, especially because of some of their iconic watches such as the Moonwatch featured in the video below. However, anyone who knows anything at all about watches would know Breitling is a superb watch brand.
*Source: Most Valuable Swiss Brands by Interbrand, an agency that measures brand value.
Who Has a Better Warranty, Omega or Breitling?
Omega AND Breitling now boast a 5-year manufacturer's warranty. This is considered to be be good since most luxury watchmakers still only offer a 2 year warranty period with few exceptions. At PrestigeTime.com our guarantee honors the manufacturer's warranty period, whatever it may be. This duration is usually between 2 to 5 years and is displayed clearly on the item page for each watch we sell as well as on our warranty & repairs page.
If you enjoyed this comparison and feel that others would enjoy it too, please like and share it. Thanks!