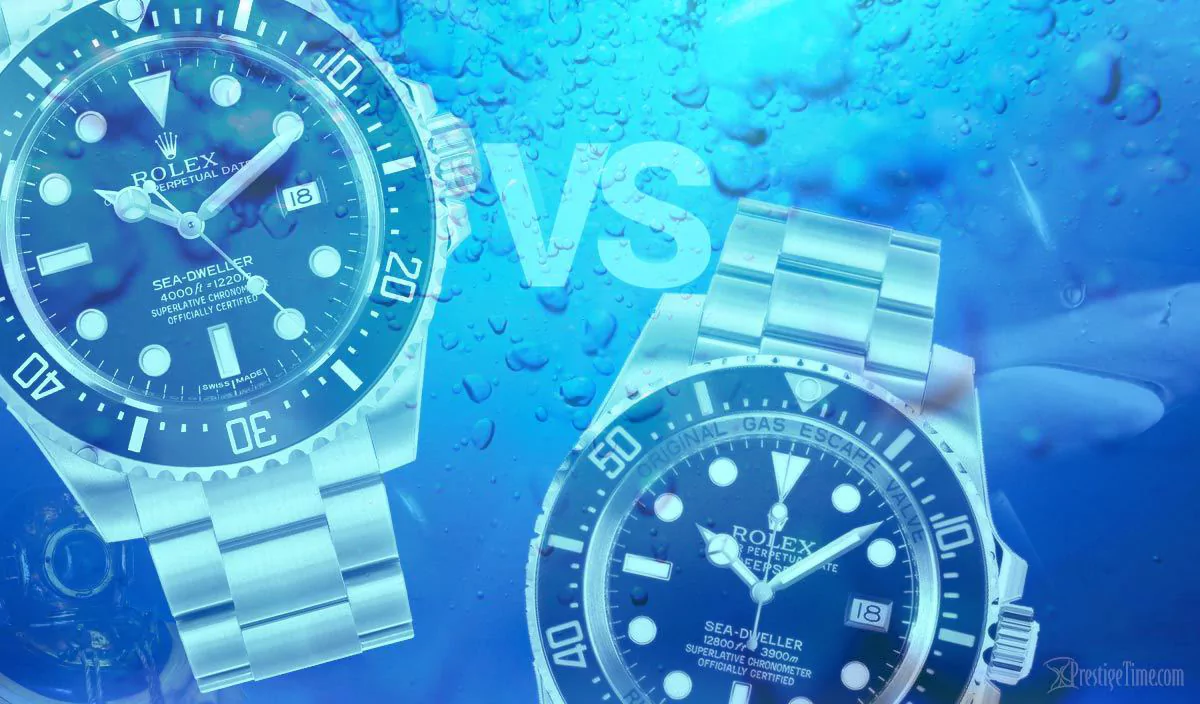 Rolex Deepsea VS Sea-Dweller
Let's compare two epic diver watches
Both the Rolex Deepsea and the Rolex Sea-Dweller 4000 collection have the Oyster case where in which the bezel, case back, winding crown, and middle case screw into each other sealing it from outside moisture. The history of the Oyster case dates back to the 1920s and it gives the watch amazing water resistance. Let's further compare these two very great diver's watches that are favorites among the professional divers in the world. For starters, during the testing, these two dive watches have both gone through some of the harshest conditions known to man and have both passed with flying colors.
How much does one cost? Depending on the model, there can be anywhere from a few hundred to a few thousand dollar difference in price between these two watches. The least expensive being between $17,000 and $18,000 dollars.  After reviewing the unique features of each, it's up to you to decide if the extra features are worth it to you or not. Read further for the full scoop on each watch. We will list all the common features, then all the unique features of each watch. Or click here for the side by side basic specifications.
What is the difference between the Rolex Deep Sea and Sea Dweller? Other than the new larger size, the main difference between these two Rolex watches is their resistance to unimaginable pressure. In terms of water resistance, the Rolex Deepsea collection would certainly take the prize for water resistance with a very impressive 12,800 feet / 3,900 meters of water resistance compared to the Dea Sweller 4000 which is water-resistant up to 4,000 feet / 1,220 meters. To get an understanding of the amount of pressure the watch can go under, there are 5548.99 pounds per square inch (PSI) of pressure at a depth of 12,800 feet and 1734.06 pounds of pressure (PSI) at 4,000 feet underwater.
Another noticeable differentiating feature would be the Helium escapement valve located on the Rolex Sea-Dweller Deepsea. While both of these watches are part of the Rolex Sea-Dweller series, only one of them has the name Deepsea printed on the dial just below the Rolex logo. This is a new designation reserved for a diver watch that has a tough as nails 5mm domed sapphire crystal set in a patented 3-piece case designed with the Ringlock System, a practically indestructible nitrogen alloyed stainless steel support ring set inside the case this is a dive watch that can handle the type of pressure that would literally crush a submarine! These two sports watches can go further and deeper underwater than any other Rolex in any other diving collection. The company prides itself on many things including that a Rolex Explorer was on the wrist of an explorer that went to the highest peak on this planet's surface and another Rolex was worn by James Cameron who went to the lowest depths of our waters. The point of the story is that they are built tough, and build to take it harder than any of us.

Features That Both Watches Have in Common
Polished stainless steel crown that uses Rolex's Patented Triplock locking crown which screws down and locks it down as strongly as a submarine hatch.
The bezel insert is made of the new black "Cerachrom" which is a tough and hardened ceramic material that is durable, scratch-resistant, has anti-corrosive properties, and is impervious to UV related color fading. The ribbed edge of the bezel gives you a better grip when rotating.
Luminous dot on the bezel at the 12 o'clock position.
Black dial and hands and hour markers that have a Chromalight display and long-lasting blue luminous fill.
Made of 904L stainless steel, a material used in aerospace, high-tech, and chemical industries (sorry not available in gold). This steel is known for being highly resistant to the harshest environmental conditions and can be highly polished. It can also maintain its beauty in severe conditions.
Powered by the self-winding Rolex Caliber 3135 in-house automatic movement which has a shock-resistant and paramagnetic Parachrom hairspring which offers greater resistance to temperature fluctuations. The Rolex 3135 movement has an approximate power reserve of 48 hours.
Both models are Superlative Chronometers which means they have a precision of -2 / +2 seconds per day and have passed both the COSC certified chronometer testing as well as the Rolex internal testing.
Rolex Oyster bracelet with the Oysterlock clasp design which prevents it from accidentally being opened. The bracelet also uses Rolex's Glidelock system which allows you to quickly and incrementally increase the size of the bracelet without having the need for tools which is perfect for adjusting the bracelet a bit and comfortably slipping it over a diving suit.
Unidirectional 60-minute rotating bezel with platinum-coated numerals and graduations.
Date window at 3 o'clock position.

Unique Features of the Rolex Deepsea
44mm case size
A Helium escape valve for incredible water resistance
The case uses a new virtually indestructible nitrogen-alloy support ring set inside the case with the 3 piece Ringlock System and an extra thick 5mm sapphire crystal
The outer ring of the dial says "Original Gas Escape Valve" around the top and "Ring Lock System" around the bottom
Additional Fliplock extension links allowing the bracelet to be extended by an extra 26mm to help it fit even more comfortably over a heavy-duty diving suit
12800 feet / 3900 meters of water resistance

Unique Features of the Rolex Sea-Dweller 4000
40mm case size
4000 feet / 1220 meters of water resistance
---
Side By Side Comparison
|   | | |
| --- | --- | --- |
| Brand: | Rolex | Rolex |
| Series: | Deepsea | Sea-Dweller 4000 |
| Model #: | reference 116660 | reference 116600 |
| Size: | Men's | Men's |
| Case Material: | Stainless Steel | Stainless Steel |
| Dial Color: | Black | Black |
| Bracelet/Strap: | Stainless Steel | Stainless Steel |
| Clasp Type: | Folding Clasp With Safety Latch | Folding Clasp With Safety Latch |
| Movement: | Automatic | Automatic |
| Bezel: | Uni-Directional Rotating | Uni-Directional Rotating |
| Crystal: | 5mm Scratch Resistant Sapphire | Scratch Resistant Sapphire |
| Case Back: | Solid | Solid |
| Water Resistance: | 12,800ft / 3,900m | 4,000ft / 1,220m |
| Case Diameter: | 44mm | 40mm |
| Case Thickness: | 17.60mm | 14.8mm |
| Warranty: | Prestige Time 5 Year Warranty | Prestige Time 5 Year Warranty |
|   | | |
Deciding between these two would most likely boil down to you gauging the difference in water resistance and price, and not as much any advanced watchmaking and horology. Whether or not you need a seriously heavy-duty diving watch like the Rolex Deepsea VS the Rolex Sea-Dweller watch would largely depend on a few things. Namely, your budget and how adventurous you are as a professional deep-sea diver, and how willing you are to live on the razor's edge in the harshest conditions.
If you enjoyed this comparison and feel that others would enjoy it too, please like and share it on your social media and feel free to follow us on Facebook and Instagram. Thanks!