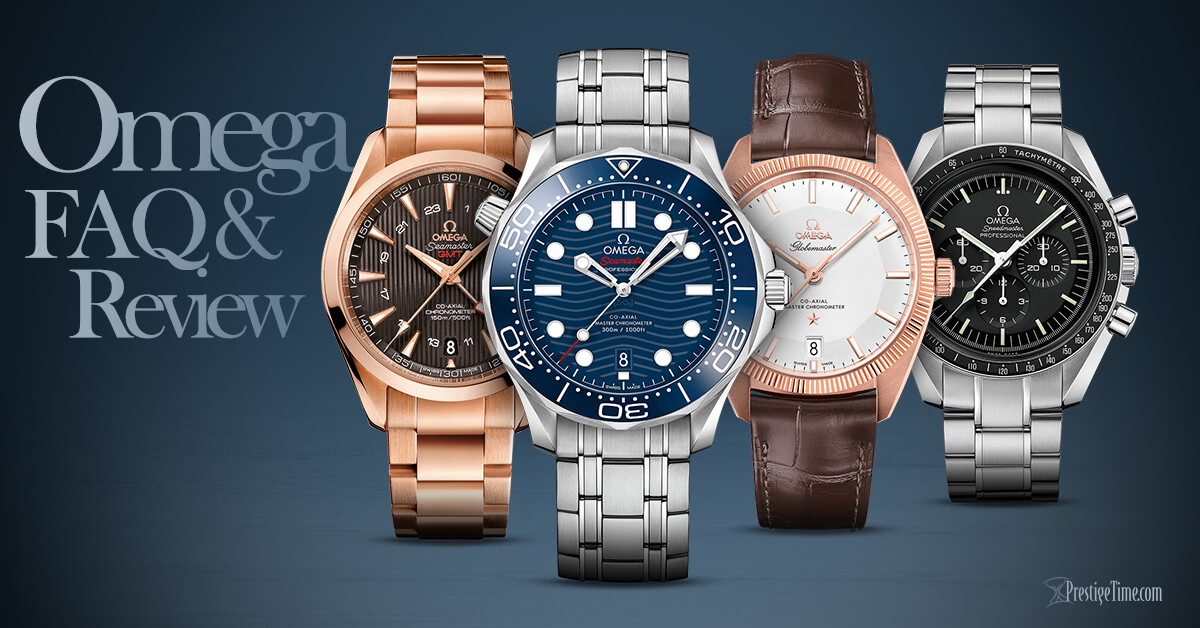 Omega Watches Review & FAQ
In our detailed review, we ask the most frequently asked questions and answer them to address all the types of concerns that people just like you ask when considering the purchase of an Omega timepiece.
30 Top Questions
OMEGA Review & FAQ
1.  Are Omega Watches Reliable?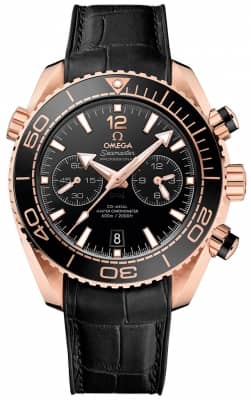 They are very reliable. As far back as the 1960's NASA had approved the Speedmaster for all space flight missions and EVA (extra-vehicular activity). More recently with the introduction of a new horological pedigree from METAS called the Master Chronometer, which measures accuracy, water-resistance, and resistance to electromagnetism, this watchmaker is the only brand that has this certification. Reliable? Yes. Very.
2.  Are Omega Watches Good?
They manufacture great timepieces and have unique models for all types of activities ranging from subaquatic exploration and water sports to space exploration and everything in between. They create many different collections of both classic and sports models. They are built tough and are accurate, durable, and dependable.
---
3.  Are Omega Watches Accurate?
Yes. Especially the newer models that have the Master Chronometer designation. These are accurate up to -0/+5 seconds per day. These calibers are significantly more accurate than those with just a COSC Chronometer designation which is -4/+6 seconds per day and was the industry's highest 3rd party designation in horology.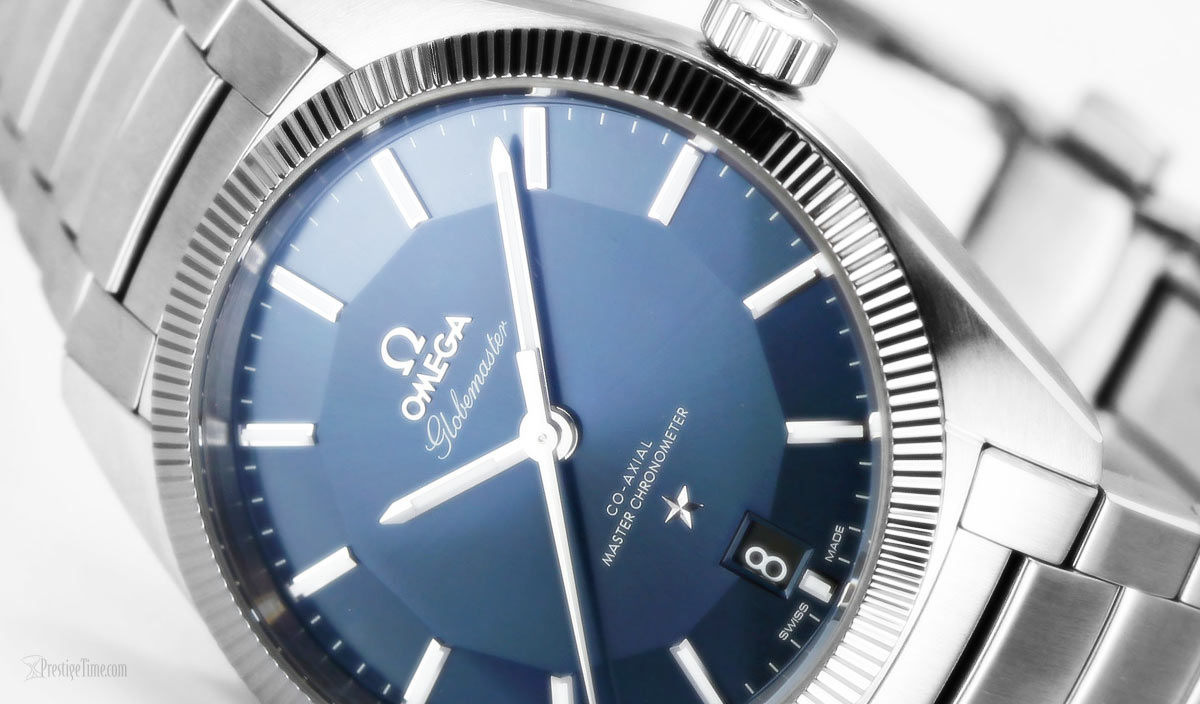 ---
4.  Where Are Omega Watches From?
Omega SA is based in Biel/Bienne, Switzerland although initially, the company began as an assembly workshop in La Chaux-de-Fonds, Switzerland.
5.  When Were Omega Watches Made?
In 1848, when a 23-year-old by the name of Louis Brandt originally started what is now called Omega SA, the company operated under the name La Generale Watch Co. After he passed away, his two sons took over the company and in 1880 moved the business to a busier town called Biel/Bienne.
It was only in 1903 when the company was incorporated and used the word 'Omega' in the company name which was Louis Brandt et Frère – Omega Watch Co.  Fast forward close to 80 years and the company name changed once again to Omega SA which is now a subsidiary company of the Swatch Group which is a large conglomerate in the Swiss watch industry.
6.  Where Are Omega Watches Made?
Their headquarters is in Biel/Bienne, Switzerland.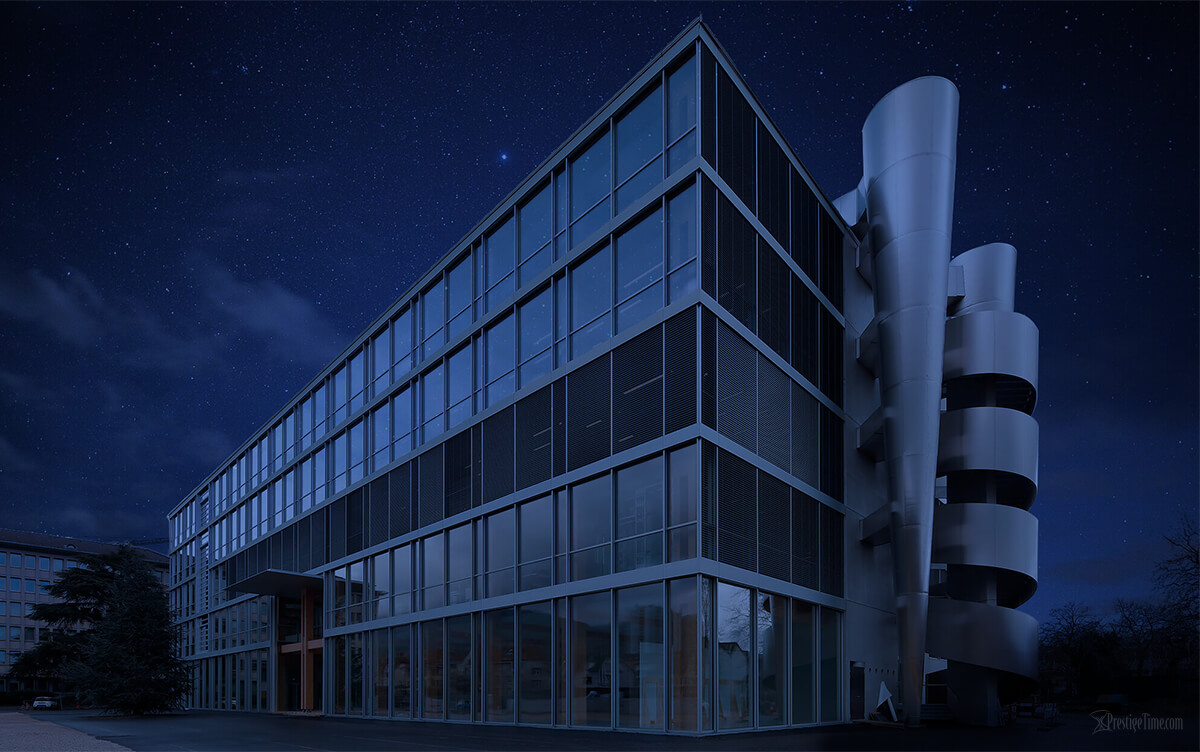 7.  How Old is Omega?
Since 1903 (under that name). However, the company's history goes further back to when it was first founded in 1848 and operated under a different name La Generale Watch Co. 
---
8.  Are Omega Watches Self-Winding?
Most use self-winding (also known as automatic) movements that have a weighted rotor attached which allows for the automatic winding. However, they also manufacture many models that use battery-powered quartz movements as well as several models which are called hand-wound or manual wind which need to be manually wound.
To learn more about automatic watches click here.
9.  Which Omega Watches Are Automatic?
Most of their various collections feature Automatic watches. Browse with the button below.
10.  Which Omega Watches Are Quartz?
There are hundreds of models with Quartz movements. Browse with the button below.
---
11.  What Is Good About Omega Watches?
Aside from being one of the most popular and recognizable Swiss watch brands, and creates very accurate, dependable, and durable watches. They are very popular all over the world, and as far as Swiss watch brands go, they are only second to Rolex in terms of international brand recognition. They employ several different proprietary technologies in their watches such as the Co-Axial escapement and come with an excellent 5-year warranty.
They are involved with many international charities and made numerous horological innovations and contributions to the art and science of watchmaking over the many years that they have been in operation.
12.  Are Omega Watches Prestigious?
That depends on who is asking and which brand you are comparing them to. Someone with half a dozen Patek Philippe watches may not consider them a prestigious brand, but they are up there. They are continuously competing with brands such as Rolex, for example. You will find many horology enthusiasts that have one in their collection.
13.  Will Omega Watches Increase In Value?
Rarely. Most watches don't increase in value. You need to look at the purchase of a watch the same way as when you consider purchasing a vehicle. The minute you use it, it already dropped in value. Typically, the types of watches that will appreciate are the ones that are extremely rare or even more rare, ones that had a production flaw. Limited and numbered editions tend to hold their value well, but more often than not, a watch will drop in value as soon as you use it.
14.  Are Omega Watches Luxury?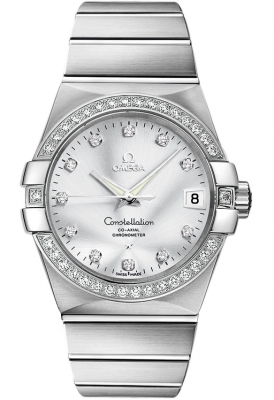 Many consider them a high-end brand. It's certainly not what one would call a bare necessity. Many have solid gold cases and use diamonds in the design. However, there is a luxury, and then there is bespoke luxury. Other brands such as Audemars Piguet, Vacheron Constantin, and Patek Philippe are probably higher up the food chain in terms of 'Haute-gamme', but Omega has its unique place in the watch market and holds a significant market share.
15.  Are Omega Watches A Good Investment?
Watches, by definition, are not to be considered investments in the traditional sense of the term which means it is a financial investment product or security such as a mutual fund, a bond, or any other investment expected to go up in value, including real estate. Watches are expected to drop in value when used for the first time. Even the rare cases when a luxury watch appreciates, they are just too few and far between to ever be considered a serious investment.
16.  Which Omega Watches Hold Their Value?
Most watches don't hold their value. You will usually take a hit at the point of reselling. Of course, there are exceptions such as in the case that it is a very rare model or a model that accidentally was released with a production flaw of some type. These models are few and far between. 
17.  What Kind of Warranty Do They Have?
They recently extended the warranty on all new wristwatches to a 5-year warranty. This new extended warranty period took effect on November 2, 2018, and covers timepieces purchased either on or after July 1, 2018.
This international warranty covers any material and manufacturing defects at the time of purchase. Their website also states that if you experience any issue with the watch during this 5-year warranty period, they will provide you with the customer care you deserve and resolve it free of charge.
---
18.  Are Omega Watches Expensive?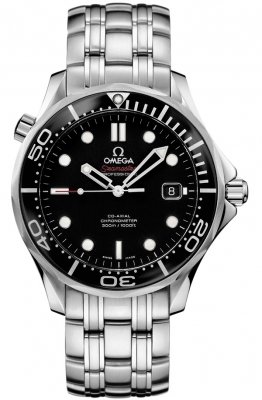 Not as expensive as some of the more up-market brands but they cost significantly more than some lower market fashion brands. It also depends on the model you are considering. For example, the cheapest watch from this watchmaker that you can find is a Lady's model called the Constellation. It's a small 24mm watch that is powered by an inexpensive and non-mechanical Quartz movement.  It has a list price of $2,650. As for men's watches, the cheapest model for men is a mid-sized watch at 35mm and is also a Constellation Quartz. It comes with a list price of $2,700. Most men would consider this a small watch though. It ultimately depends on your wrist size. The most affordable popular men's timepiece from Omega, the Omega Seamaster Diver 300m Co-Axial is a mechanical model with great features and starts at a list price of $4,400, but you can find it on our website at a discounted price.  
19.  How Much Do Omega Watches Cost?
The list price of an Omega watch ranges anywhere from $2,650 to $45,500. Alternatively, our discounted pricing is anywhere from $2,040 - $35,035 depending on the model you choose.
20.  Why Are Omega Watches So Expensive?
They have invested millions in production and innovation and have an excellent reputation for accuracy, dependability, and durability. They are a very recognized brand in the watchmaking industry and have several iconic watches under their belt. Not to mention the long list of horological achievements and innovations that they contributed over the last 170 years or so that they have been in business. Besides, they offer an excellent 5-year warranty and provide great service when needed.
21.  Are Omega Watches Worth The Price?
Considering the answer to the previous question, yes. They are well worth the price.
22.  Can You Buy Omega Watches Online?
Yes, you can buy Omega timepieces online. Omega themselves sold a Limited Edition Speedmaster known as the "Speedy Tuesday" for the first time online allowing their fans to reserve the new watch. All 2,012 pieces sold out in about 4h 15m.  However, if you are looking for a discounted price on an Omega watch online, you won't get one from them directly. You would have to check elsewhere.
23.  Where To Buy Omega Watches Online at a Discount?
One of the first-ever websites that sold brand-name wristwatches online at discounted prices is the one you are on right now. Click the button below to browse our large selection of their timepieces.
---
24.  Who Wears Omega Watches?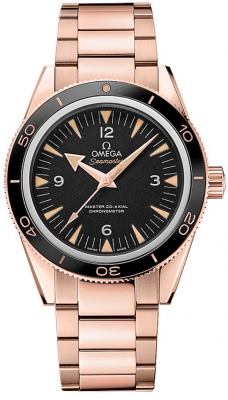 They have been featured in every James Bond 007 film since Pierce Brosnan took on the role of the British international spy in the movie 007 Goldeneye and later when Daniel Craig replaced him as the lead actor, he too wore them on his wrist.
Speaking of Hollywood, the Omega brand is backed by a small army of Hollywood A-listers who are Omega's brand ambassadors. These people include Cindy Crawford, Daniel Craig, Nicole Kidman, George Clooney, David Duchovny, and many more internationally recognized names such as NASA astronaut Buzz Aldrin.
25.  Are Omega Watches Swiss Made?
Yes. Omega manufactures Swiss Made watches.
26.  Are Omega Watches Automatic?
Most are automatic (also known as self-winding).
27.  Which Omega Timepiece Is Best?
That entirely depends on why you would buy the watch or for whom you buy one. What you need to determine is what are you looking for in a watch. Only then will you be able to decide which is best for you and your unique needs. For example, some of the most expensive models are made of solid gold and are full of diamonds. While these case materials are very impressive and sparkly, those features may be useless for someone looking for an excellent professional diver's watch, such as the Seamaster, with very high water resistance.  
28.  Which Omega Watch Is the James Bond Watch?
James Bond wore an Omega Seamaster in the 007 films. Read our article on which Seamaster he wore.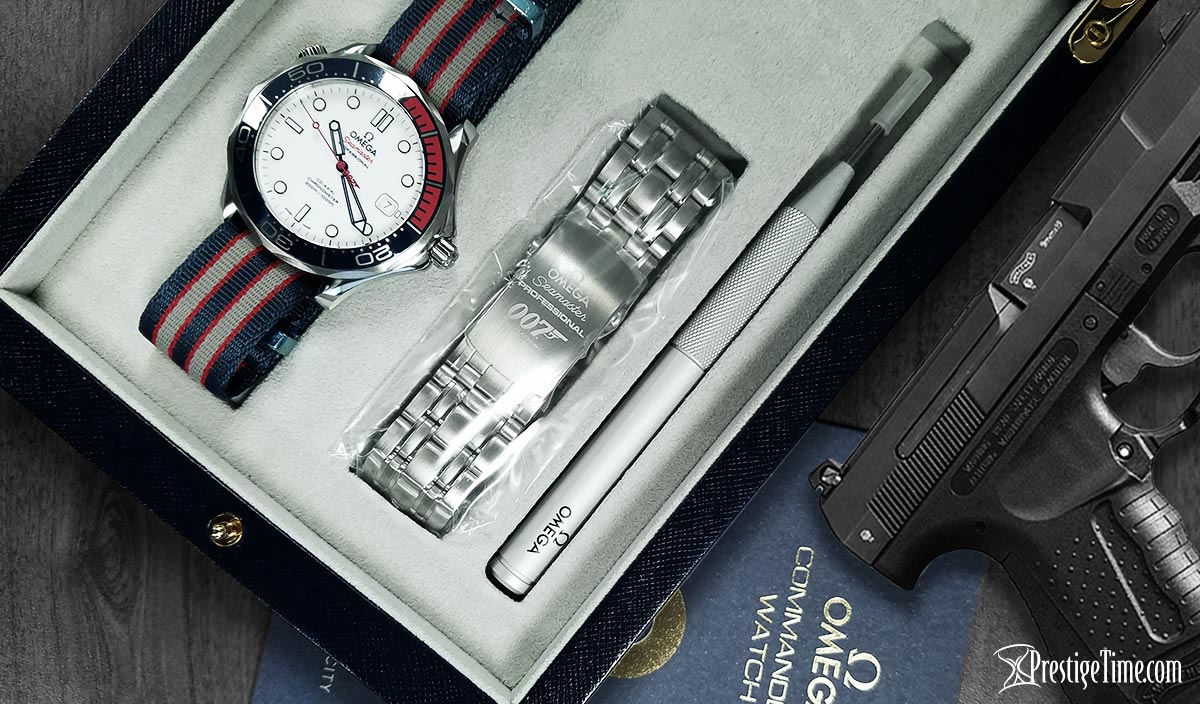 29.  Are Omega Watches Cool?
If the Seamaster is cool enough for James Bond, it's cool enough for me!
30.  Which Omega Watch Should You Buy?
There are so many from which to choose. Your best bet is to see them for yourself and pick one that has the look you are going for and suits your unique needs. Click below to browse the various collections.