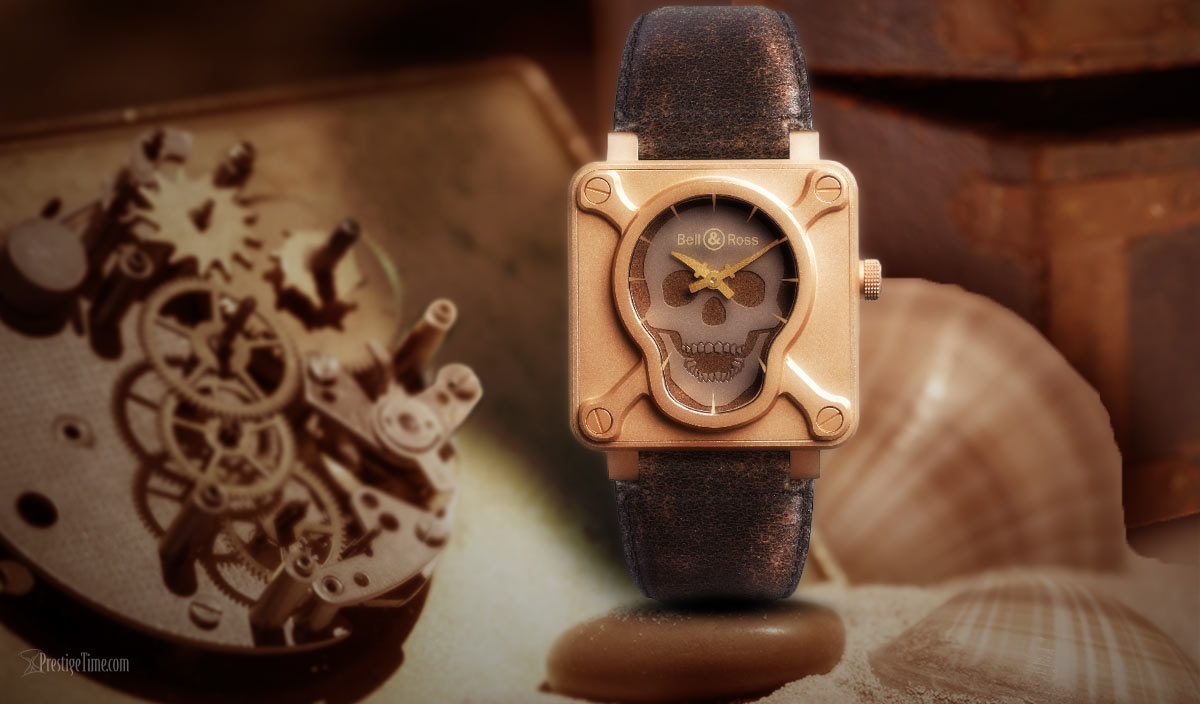 Bell & Ross BR 01 Skull Bronze Review
Anyone saying luxury watches can't ride a pirate-themed steampunk trend, please walk the plank.
2015 was a year when Bell & Ross firm took their design a step further with the unique design of their Bell & Ross BR 01 Skull Bronze which is to be a part of the Only Watch auction. From the sword-shaped hands to the bronze skull and crossbones, this watch looks like the kind of pirate watch that Captain Jack Sparrow would wear, with its historical design that fits beautifully in a retro-futuristic Steampunk style.
Although the unique timepiece celebrates the legend of a two-hundred-year-old iconic pirate, Bartholomew Hawkins, whose pirate ship known as "Black Wind" sank off the coast of Monaco in 1815. Captain Bart Hawkins owned a watch that he had custom made with the notorious pirate's logo, the Skull & Crossbones, and wore this watch during every confrontation. Rumor has it that the face of the watch he wore held a piece of bronze that he took from a cannon that once belonged to one of his adversaries.
One can only imagine the picturesque moment of this legendary pirate holding his sword up high and staring at his Pirate's Skull and Crossbones watch just seconds before giving the order: "Fire at Will!" followed by the deafening sound of splintering naval ships turning into nothing but floating wreckage. Many treasure seekers embarked on quests to find the remnants of the legendary ghost ship once commanded by this ruthless marauder of the seven seas. We at Prestige Time have a hunch that Captain Bartholomew Hawkins would have scoured the earth in search of a treasure such as the BR01 Skull Bronze watches. In absence of such a deserving owner, the 2015 Only Watch charity auction is now the lucky beneficiary of this iconic watch.
So why does this watchmaker put such importance to the iconology of pirates? Most people are not aware that the "Jolly Roger" known to most as the Skull and Crossbones, is actually a symbol still very much in use today by the people in uniform. Yes, the military uses the Jolly Roger to intimidate their enemies and use it decoratively on their military gear, uniforms, and even airplanes. The fusion of the Jolly Roger along with other military icons such as the sword and dagger can be found on the BR 01 Skull Bronze from Bell & Ross.
Pictured below is the Limited Edition Bell & Ross Model #: BR0192-SKULL-BR which is no longer available.
However, you can pick up a very similar watch known as the Bell & Ross BR01 Laughing Skull.