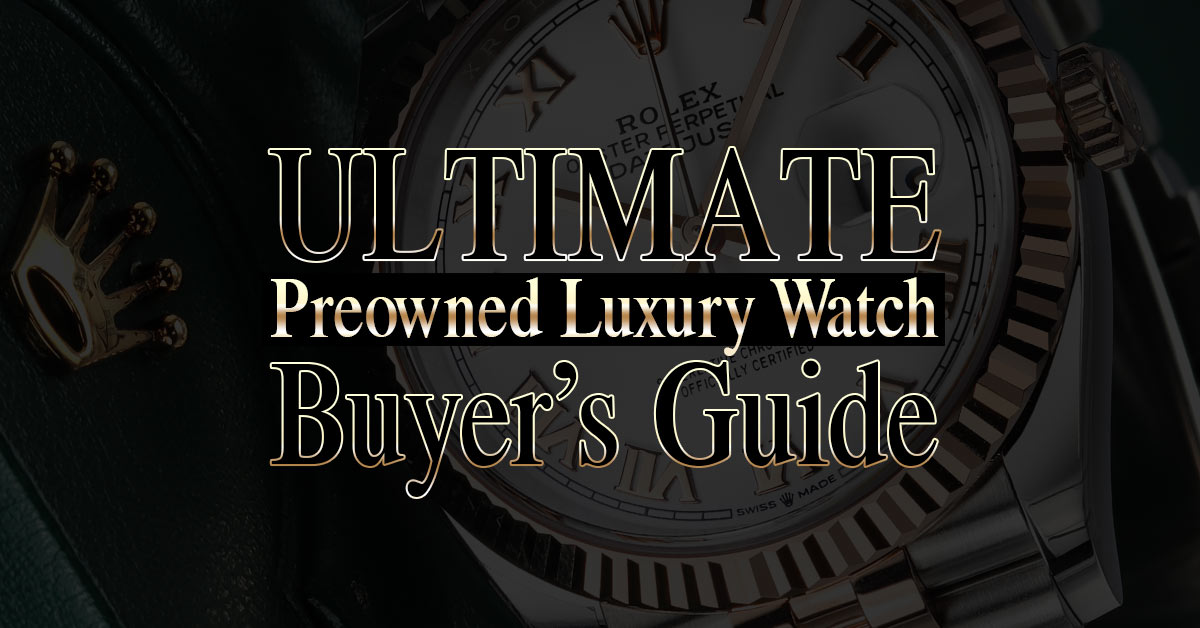 2021 Ultimate Pre-Owned Luxury Watch Buyer's Guide
We've had many people ask us about buying pre-owned luxury watches over the years. Here are the best tips for buying a pre-owned luxury watch.
Yes, there is a way to be prepared so that you walk away satisfied with the watch you choose. Like any major purchase, it requires due diligence and a good understanding of the pre-owned luxury watch market.
1.     

Get to know the different types of pre-owned watches

There are different types of preowned watches and we'll explain the differences between them from newest to oldest.
The first type we're going to discuss are watches that are modern watches that are still being sold by authorized dealers and retail boutiques. These are watches are usually still being produced at the time of purchase. Luxury watches, like a luxury vehicle, will lose a percentage of its original retail value the moment you put it on your wrist. Buying a modern pre-owned watch does have its value since in many cases it could still be in excellent condition and possibly still covered under the original manufacturer's warranty.
The second type we should discuss is watches that have been phased out of production or discontinued altogether. Watch manufacturers will often update watch models with slight aesthetic differences or in some cases, keep the same exact design but provide an updated movement inside the case. As a result, the previous models get phased out of production and boutiques until ultimately, they are discontinued. These watches can be procured at a discount and are sometimes even brand new but sold as NOS (new old stock).
The third type of previously owned luxury watches is vintage watches. These are models that are typically at least 30 years old and being as such, they need more tender loving care. They are rarer, their replacement parts are scarcer, they are more delicate, and require more care to keep them running smoothly. On the plus side, there are many vintage watches that have appreciated in value over the years and now worth more than their original retail price.
2.     

Finding your perfect pre-owned watch

This is usually a very personal choice as there are many unique and iconic watches that are popular in the watch collecting community and if you're not certain which to choose, you may want to first ask yourself what features you are looking for in a pre-owned timepiece. Then work your way from there.
Sometimes you know that you want a specific
Sometimes you know you want a specific type of watch with certain distinct mechanical features (i.e. a chronograph watch, which offers a mechanical stopwatch function).
Other times you want a watch that just looks a certain way.
3.     

Determining what motivates you to buy a used luxury watch
For example: If you are looking to purchase a watch that will one day become a family heirloom then things like resell value should be considered since not all brands are equal. Brands such as Patek Philippe and Rolex usually have a higher than average resell value compared to most other brands. Of course, this depends on the model and a few other things which we'll discuss when we cover valuation later in this post.
Another good example of a motivating factor is that some people just want to purchase a watch that people will recognize and as a result, send forth endless compliments for their exquisite style and fine taste in watches. In a case like this, brand recognition would be important. Think of considering the following brands (and in the following order) from most recognized to less recognized: Rolex, Omega, Patek Philippe, Chopard, Cartier, Breguet, Longines, Audemars Piguet, Vacheron Constantin, IWC, TAG Heuer, Jaeger-LeCoultre, Hublot, Breitling. The list goes on but these are all pretty popular brands.
Another motivating factor and usually a very good one is the savings you would get in buying watches pre-owned instead of new. In this case, you will probably want to do research on the retail prices of watches you are considering and compare them to the going rate for a pre-owned model. Sometimes the lowest price advertised for a used luxury watch is low for a reason. In this case, you will want to make sure the watch meets your expectations in terms of the condition it is in as well as a few things that we will discuss next.
4.     

How is a pre-owned watch valuated?

A lot of factors are assessed in the valuation of a previously owned timepiece. The following valuation points should be considered both when purchasing and when either selling or trading up a used luxury watch. Having an idea of where the value is coming from helps to determine why you might see two of the same watch models but with different prices.

Some of the more obvious things that are considered are:
the brand of the watch
the age of the watch
the condition the watch is in
the wear and tear on the leather strap if it has one
the specific model number of the watch
if the watch is a limited-edition model
if it's a collectible iconic model or series
Some of the not-so-obvious things that are highly considered and can cause a price difference are:
if the watch has been worn
if the watch has been factory serviced and if the service invoices are provided
if the watch comes with original packaging, tags and/or stickers
if the watch comes with original papers and documents especially the warranty
if the watch is still covered under the manufacturer's warranty
the supply and demand of that watch model
5.     

Tips on how to get the most for your money

Sometimes a preowned watch's case is in pretty good condition with no noticeable scratches or dents, but the leather strap has been worn down and no longer looks new. Purchasing a brand-new strap from the manufacturer is always an option. Note that some OEM (original equipment manufacturer) leather straps can easily cost a few hundred dollars and up but they can add value to the watch.

If the watch case has some light scratches on it and you wish to make it look as new as possible, you can get it polished. Sometimes this will help with the aesthetic appearances of a pre-owned watch. Be mindful that over-polishing a watch can cause it to lose some of its value.

Here's a nifty trick on how to get an "extended" warranty. After sending a watch in for repairs or service from the manufacturer, the factory will usually issue a warranty with the watch. While it may not be the same warranty period as you would get with a brand-new model it might buy you some peace of mind.

Mind you, doing the above can often mean waiting a long time to get your watch back from the factory and each brand has its own turnaround times. It's nonetheless worth pointing it out.

Use the button below to browse some great pre-owned luxury watches.