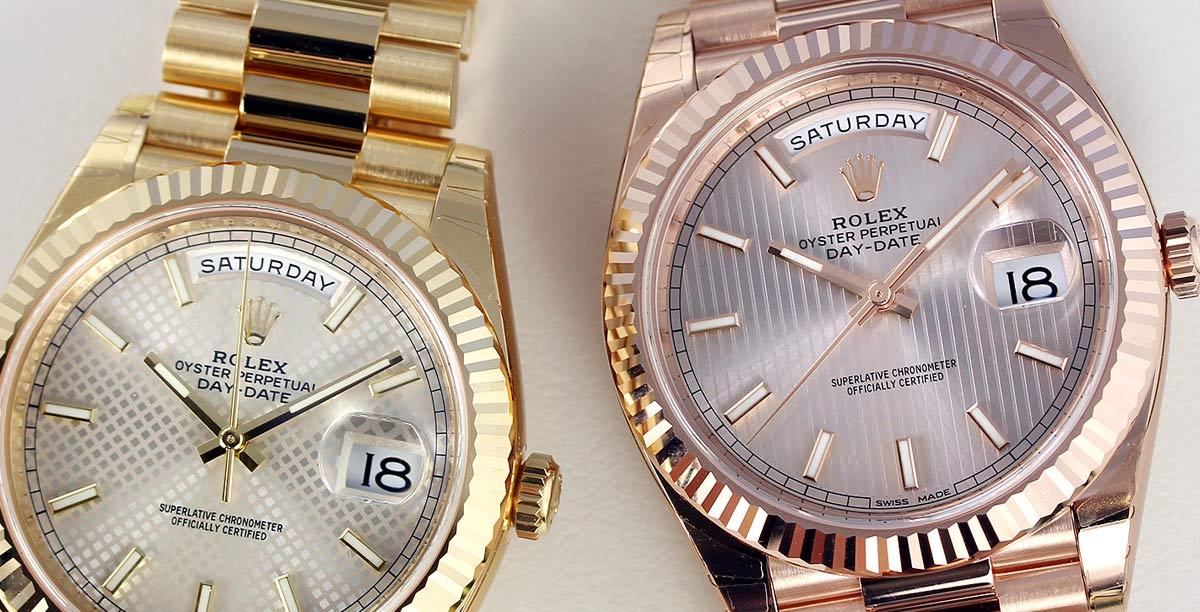 Rolex Presidents Day-Date Review
What exactly makes this watch series so presidential?
Review of the Rolex Presidents Day-Date watches introduced at BaselWorld.
You may be asking yourself, how did Rolex manage to improve an already perfect watch?
Back in 1956, the Rolex Day-Date with its easy-to-spot President bracelet was seen on the wrists of world leaders, CEO's presidents and other top level dignitaries giving it the Rolex 'President' title that it carries to this day. As with all Rolex Day-Date President watches released since then, the unique Rolex bracelet remained consistent with several innovations to the watch cases, materials used, dials and designs.
A patented blue Parachrom hairspring can be found in this watch giving it 10 times the shock protection than a regular hairspring. In addition to being waterproof, Rolex added a defense mechanism to fend off unwanted EMF signals which can disrupt the mechanics of a watch with their latest innovation in anti-magnetic materials.
The nickel-phosphorous Rolex "Chronergy" escapement is one of the latest patents from Rolex which keeps the magnetic fields from generating interference which can affect the accuracy of the watch.
Most recently at the 2015 BaselWorld Rolex booth, four new additions to the Presidents Day-Date family were unveiled. The newest additions have taken the design and attention to detail to even greater heights.
Each of the 4 new additions can be found in several materials including Rolex's very own alloy, Everose gold with its unique hue of rose gold that can only be found on Rolex watches.
In addition, they can be bought in 950 platinum, 18kt white gold, and 18kt yellow gold. As with all Rolex Day Date watches, the functions of the Day-Date include hours, minutes, second, day and date.

Traditionally a sunray dial can be found on these watches but Rolex decided to kick the dial designs up a few notches by applying motifs by laser. These new motifs now add textures and patterns to an already beautiful sunray dial. In addition to the new designs, Rolex also released a few new dial colors to the equation which include Ice Blue, Silver, Sundust and Champagne.
While the aesthetical changes to this series are quite obvious and beautiful, there are a few internal upgrades as well. The Oyster Perpetual Day-Date 40 now houses the new in-house movement, the caliber 3255 which is a brand new innovation to this superlative chronometer giving it a 70-hour power reserve. With the Rolex President Day-Date, the best just keeps getting better.
Not sure if this collection is the right one for you?