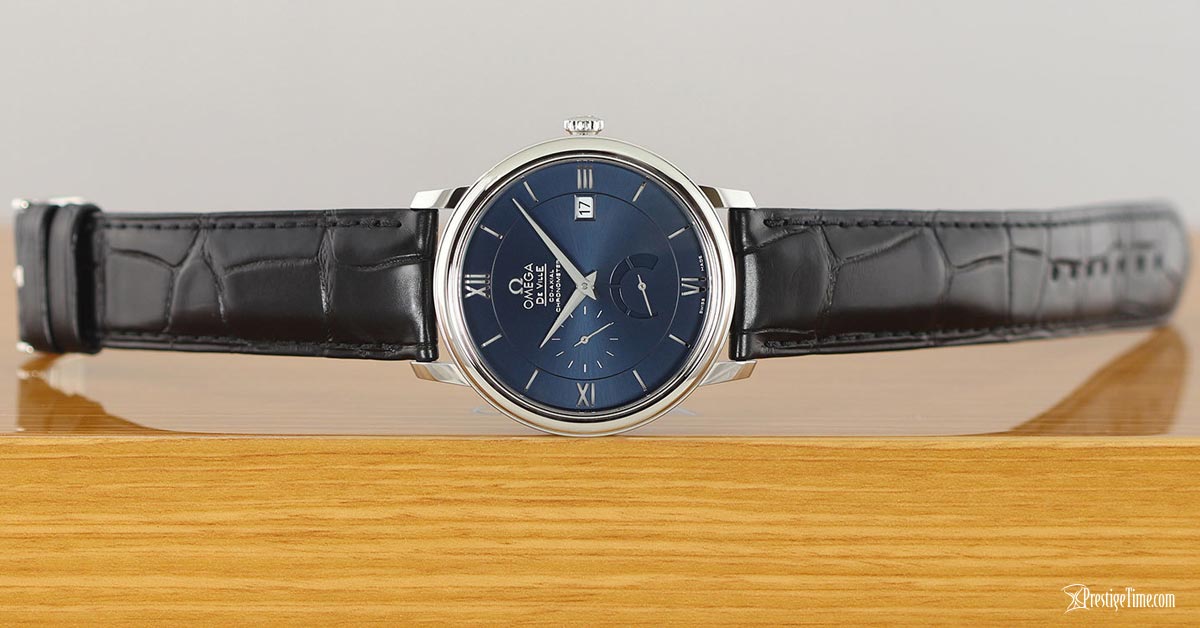 Omega De Ville Prestige Power Reserve Co-Axial Review
Are they as prestigious as they claim? Let us review this collection to give you an insider look at what you can expect.
We take pride in the fact that we have written some of the most detailed and honest reviews on many Omega watches over the years and this one will be no different. The De Ville Prestige collection has been out for a while now and to be perfectly transparent, it takes time before we can formulate a solid opinion based on experience with a new collection. There have been times when exploring a new brand or even a new series has returned unexpected results. Let's jump right in and explore the Omega De Ville Prestige Power Reserve Co-Axial collection.
Most of the Omega watches that we've covered over the years have been the iconic sports models and mainstream collections such as the many Seamaster and Speedmaster watches but there are many noteworthy Omega watches with a classic look and many of these classic looking Omega watches can be found in the Omega De Ville family of watches while the rest are found in the Constellation family.
Today, we'll be taking a close look at the Omega De Ville Prestige Power Reserve Co-Axial which is a new sub-series found within the De Ville collection.
To understand how this series came to be, we'll have to first look at the evolution of the Omega De Ville Automatic collection. For reasons that I will never understand, the De Ville was first introduced as part of the Seamaster collection around 1960 (see image on the right). It was only seven years after its introduction, in 1967 when Omega decided that the De Ville needed a space to call its own.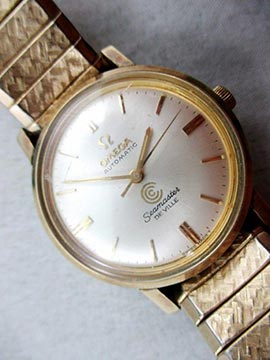 When the De Ville became its own independent collection, Omega was able to focus their design team on giving the De Ville its own unique look independent of the Seamaster collection to which it once belonged. Today, you'll find several sub-series underneath the De Ville flag. These are the Ladymatic, Hour Vision, Prestige, Trésor, Gents' and Tourbillon collections. The De Ville watch embodies sophistication and style and is geared to a younger demographic than their sports watches. It's no wonder that when the De Ville went independent, it was the best-selling and most popular Omega watch that year.
The De Ville Prestige was eventually conceived and had wristwatches of all sizes from a tiny 24.4mm model to a 39.5mm but these were lacking a component that has improved many Omega watches in recent years; the Co-Axial escapement. This new escapement, which is a series of gears responsible for incrementally releasing tension from the mainspring, functions with fewer points of friction than a traditional escapement and therefore requires maintenance less often.
The Omega De Ville Prestige Co-Axial collection has a few smaller-sized watches with 32.7mm cases that ran on the Omega 2500 caliber. These had either a round date aperture in the 6 o'clock position or a square date window located at the 3 o'clock position depending on the model.
A mid-sized 36.8mm version is also powered by the same 2500 automatic caliber but has a dial design that is configured slightly differently with a square date window located at the 3 o'clock position.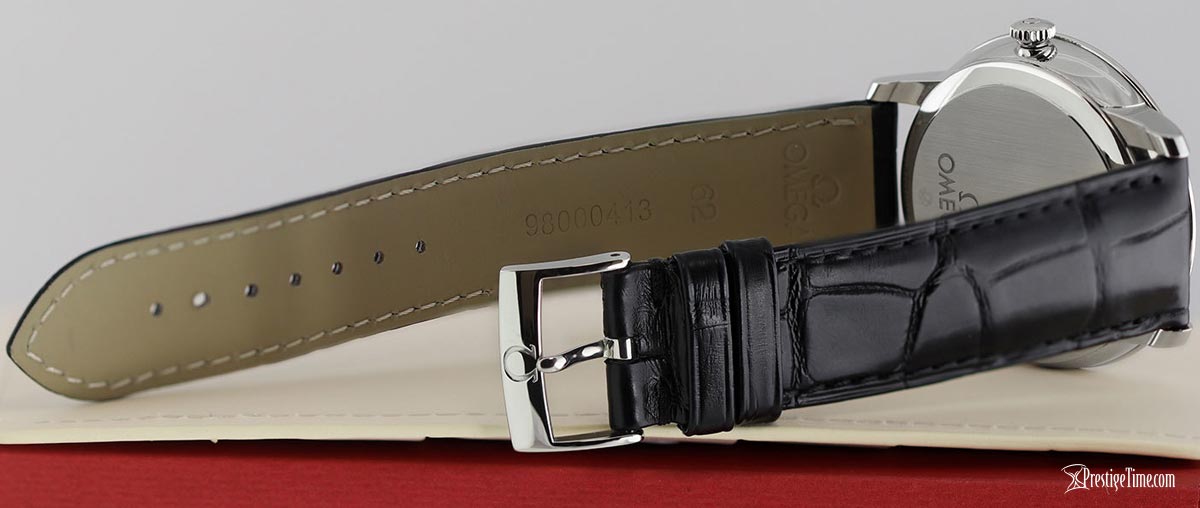 The larger albeit still classically sized 39.5mm sized versions have a similar design to the 36.8mm models I just mentioned.  These borrowed certain design elements of other watches in the De Ville collection such as the Hour Vision where you will see the similarities on the dial's chapter ring and use of polished Roman numerals and index hour markers albeit in a smaller case and on a smaller dial.
This new sub-series within the De Ville Prestige collection is one of Omega's latest evolutions to the De Ville family. This new series has two central hands for the hour and minutes, a small running seconds sub-register at the 9 o'clock position. It incorporates a very convenient power reserve indicator at the 6 o'clock position which will give you a visual indication that your watch needs to be wound via the crown.
At the time of writing this review, The De Ville Prestige Power Reserve Co-Axial series from Omega has only around a dozen or so models which all have the same 39.5mm case size but vary in case material, strap color, and dial color. There are also two models of the De Ville Prestige Power Reserve Co-Axial with diamond bezels and three-diamond index hour markers on the higher end of the price range.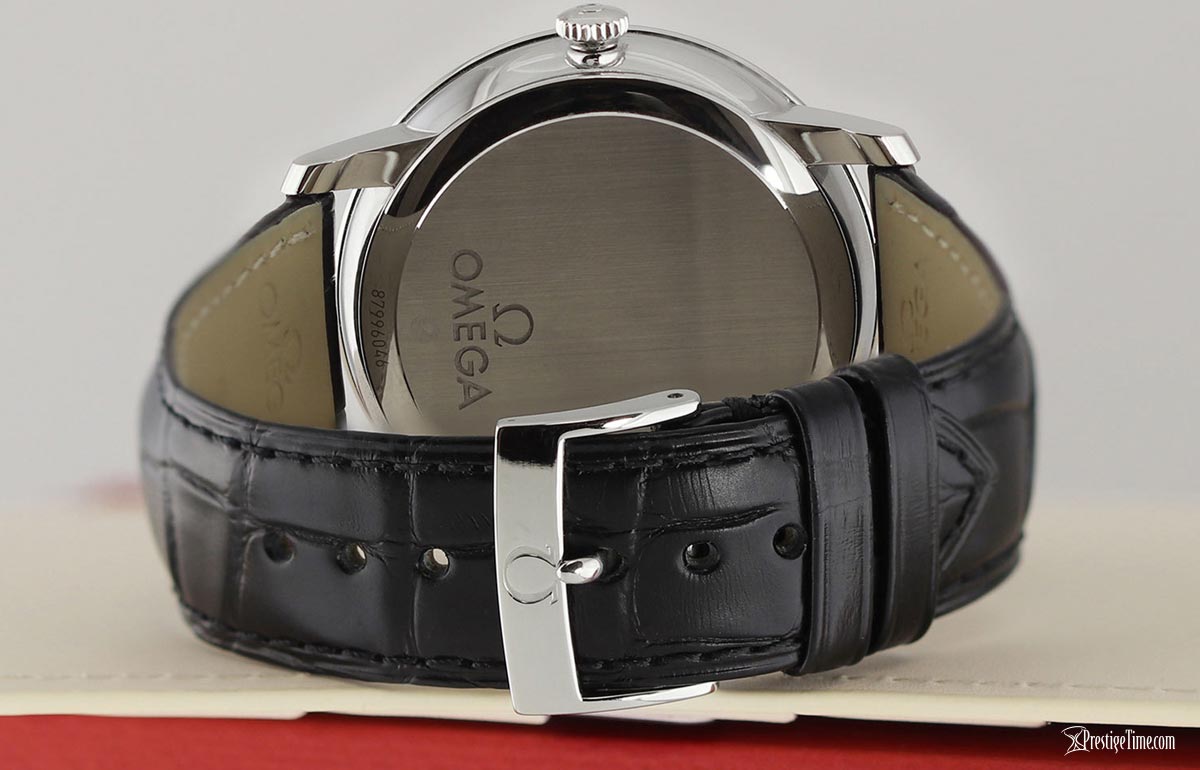 All the watches in this series are COSC certified chronometers. A prestigious designation attesting to the accuracy and precision of a mechanical movement. This means that each of the calibers has been tested and regulated until achieving a minimum precision of -4/+6 seconds per day.
Summary: This is a special collection from the De Ville family that is most likely not the kind of Omega watch that everyone and their uncle is wearing. They are excellent and accurate watches that have great features at a competitive price from a recognized and respected watch brand.
The prices in this series vary. You can find models selling at a list price of between $4,950 and $22,150 depending on the model. Of course, you can find all these watches with special reduced pricing by clicking on the button below.