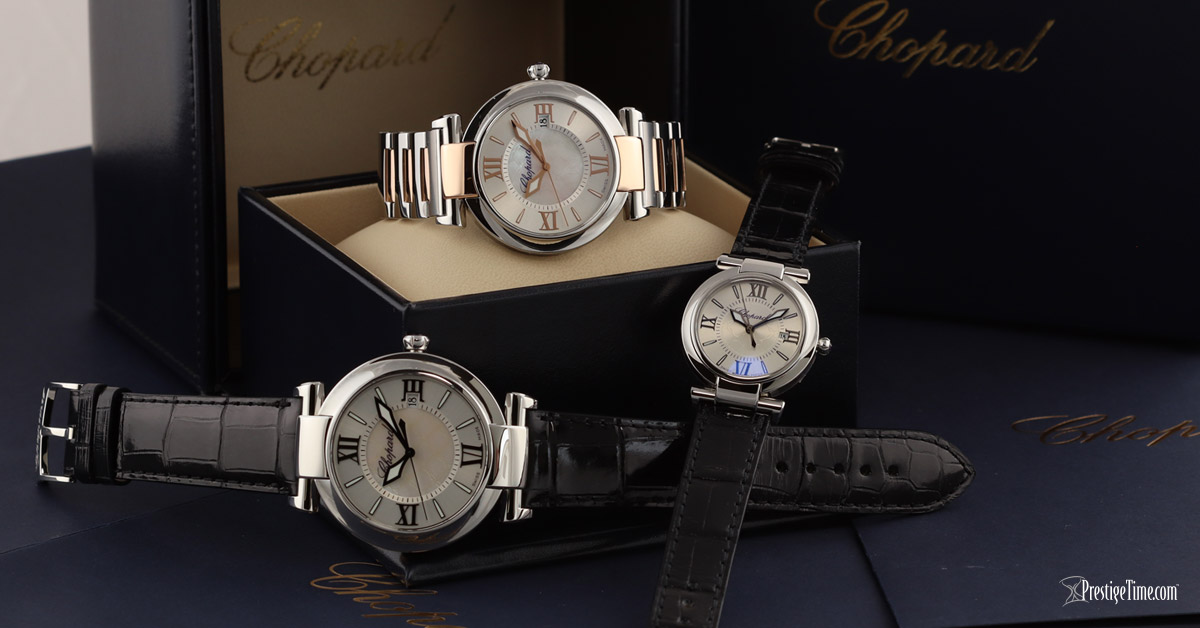 Chopard Imperiale Watches Review
Today we will review a collection of luxury watches by an expert watchmaker. Join us as we review the Chopard Imperiale collection and several of the series found within. 
This Swiss watchmaker has created many noteworthy collections since getting into the business over 160 years ago. While every one of their watches is worth reviewing, nevertheless, today we are going to pick just one collection and give it an in-depth and honest review on a few within this collection.
Let's look at a few popular models from within this collection. We will examine three watches with different sizes and specs. Starting with the Chopard Imperiale Quartz 28mm then a larger Chopard Imperial 40mm Automatic for women. Finally, we'll look at the two-tone model of the mid-sized Chopard Quartz 36mm in stainless steel and rose gold.
What makes this Chopard collection so unique?  For starters, the Imperiale has a unique dial that combines tapered index hour markers with Roman numerals at the 12, 3, 6, and 9 o'clock positions on a multi-tiered dial.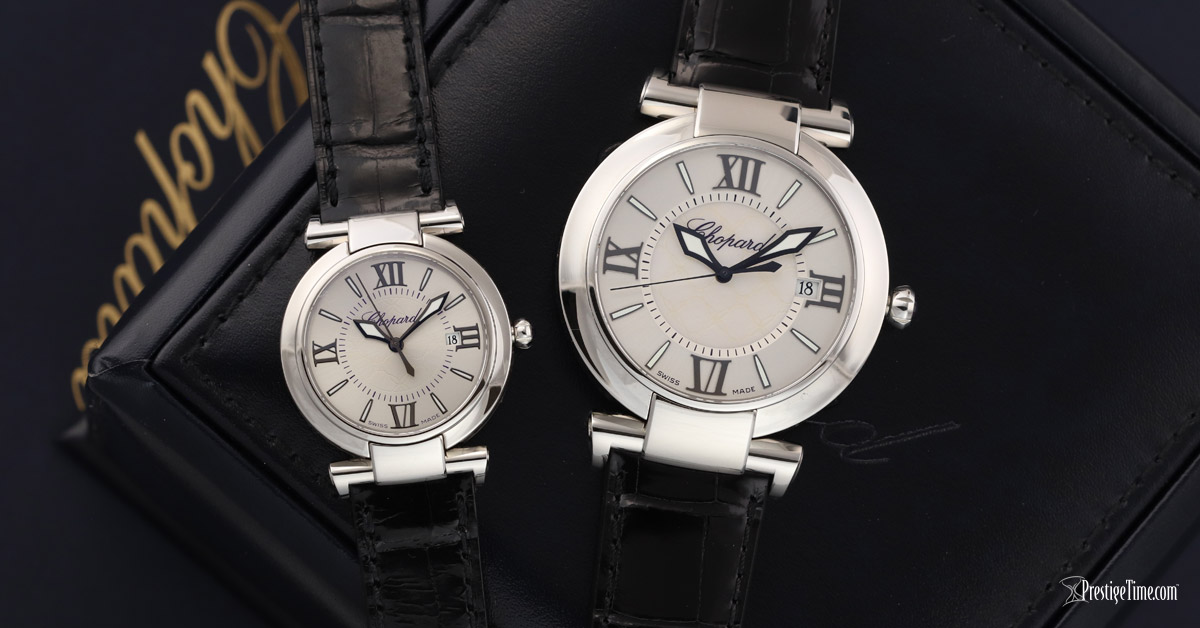 Additionally, there is a delicately engraved quilted pattern in the center of the dial, and on the central chapter ring separating the two tiers, you will find the second's track is interrupted at the three o'clock position where the date window sites centered inside the Roman numeral III. The outer dial has a finely brushed finish radiating outward.
Another distinct and unmistakable feature is the round beveled case with the single central lug on the top and bottom of the case and the amethyst-set crown. The case and crown both have a lovely, polished finish and feature a water resistance rating of 50m/150ft which is just enough for contact with water such as washing your hands or some light rain, but not enough for swimming or any other underwater activity.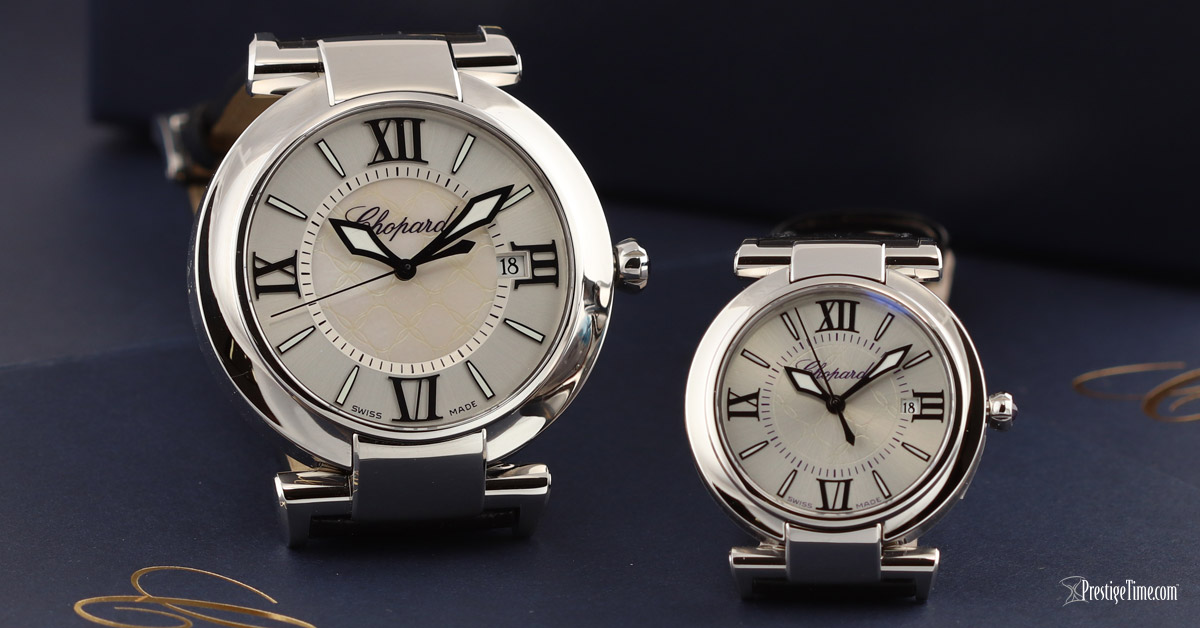 The dagger-shaped hour and minute hands are filled with luminescent material that offers enhanced visibility in low-light conditions.
Now that we covered what makes each of these three watches similar, let's examine what sets each of them apart from one another.
We'll start with model # 388541-3001 is the smallest of the three watches, the 28mm Chopard Imperiale Quartz. This 28mm model has a stainless-steel case with a 9mm case thickness. The watch is fastened to the wrist by way of a black alligator leather strap with a tang buckle.
The next size up is a 36mm Quartz model with reference # 388532-6002. It has a case thickness of 9mm and has a two-tone case and bracelet in stainless steel and rose gold. This model has rose-gold toned luminescent hands and index hour markers.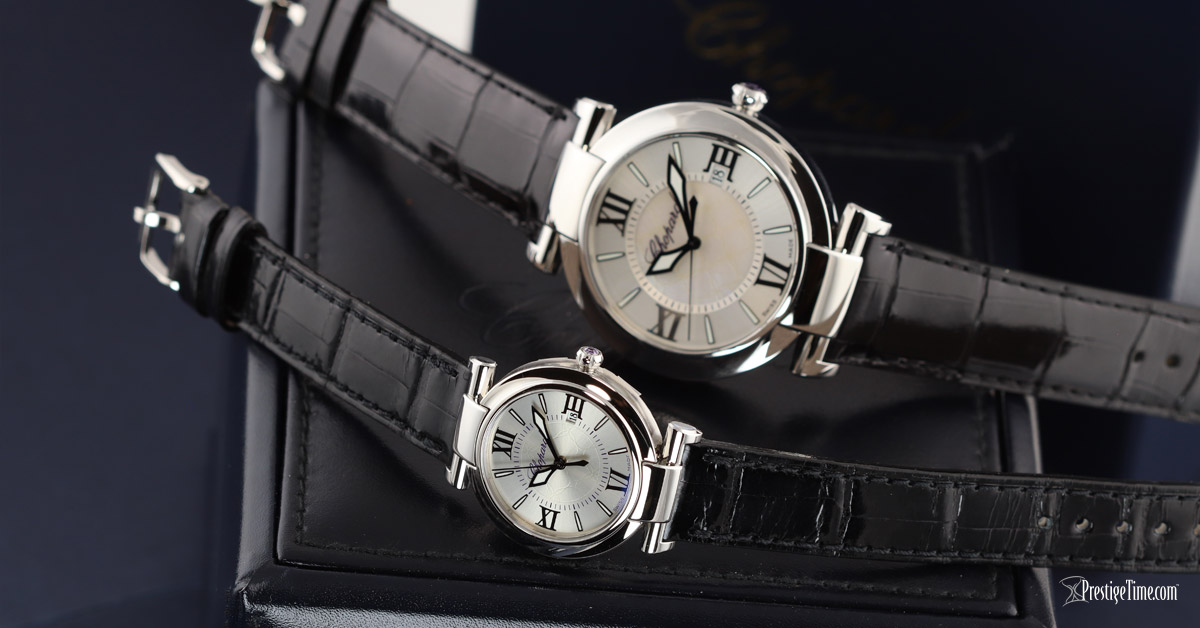 These two above-mentioned models are quartz watches. This means that they have a battery-powered movement and will require a battery change every few years or so. For the most part, this is the extent of the maintenance required to keep these watches working properly. There is also a 36mm Automatic series of watches in the Imperiale collection.
The next model we will discuss is a larger model with reference number 388531-3001. This watch has a stainless-steel case that measures 40mm in diameter with a 9.35mm case thickness. It uses a mechanical movement that requires no battery to function, but rather, it is powered by the incremental release of spring tension in a self-winding mechanical movement. (Self-winding or automatic means that when you wear this watch, the very movements of your wrist throughout the day will cause a mechanical rotor to spin inside the watch, and in turn, tightens the mainspring that powers the watch.) There is also a smaller, Chopard Imperiale 29mm automatic series in the collection. 
This collection has many numerous models that come in a variety of sizes, materials, and dial colors. To browse the entire collection and find discounted pricing click use the button below.