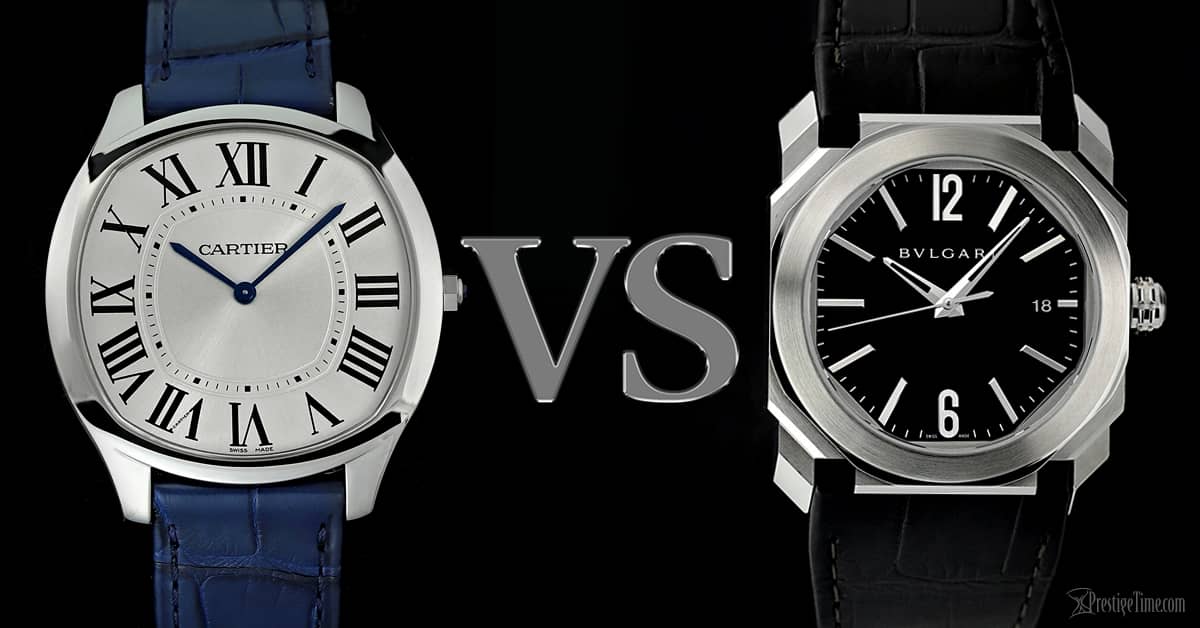 Cartier VS Bvlgari Watches: Which is the best?
Two very popular luxury brands go head to head in a comparison to find out which is best.
These two names are very popular in fashion, high-end jewelry, and luxury watches. Let's take a close look at them to help you determine which is best and which is the best for you personally.
CARTIER VS BVLGARI
We are often asked questions like "What is better Cartier or Bvlgari" or "Is Cartier better than Bvlgari?". This can mean many things so let us begin with what is usually one of the more popular contexts of this question. Today we are here to discuss their high-end watches. We will compare them on many levels. For your convenience, you can use the links below to navigate the article to the area of comparison that interests you the most.
Overview & History  |  Brand Recognition  |  Horology & Craftsmanship  |  Price  |  Resale Value
Overview & History
These two brands are some of the greatest and most recognizable brands in Haute-joaillerie, the world of high-end jewelry for the rich and famous. Over the years they've diversified some attention to pursuing watchmaking and other products and services in the luxury vertical such as fragrances, bags & accessories such as belts, and in Bulgari's case, even luxury resorts, hotels, and even a few restaurants.
Both brands are over a century old and located at the apex of the world's fashion world. Cartier was founded in 1847 and has its headquarters in Paris, France. Bulgari was founded in 1884 and is headquartered in Rome, Italy.
Cartier has been dubbed "The jeweler of kings and the king of jewelers" by Great Britain's King Edward VII. Their famous ring, bracelet, necklace, and earrings designs are about as good as they get and women love them. Today though, we'll focus on the watchmaking side of their business and see if BVLGARI or Cartier is best for you. 
Cartier is often credited with producing the first wristwatch although there is heated debate on this subject since technically Patek Philippe made the first which was a ladies' watch. Cartier, with their far-reaching world influence in fashion, was able to popularize the wristwatch in 1904, a time when pocket watches were used. This first wristwatch for men was called the Santos and was named after Louis Cartier's pilot friend, Alberto Santos-Dumont complained about trying to use his pocket watch whilst flying an airplane.
Bulgari has a slightly shorter history in the watchmaking world and the earliest known BVLGARI wristwatches date back to the early 1920s.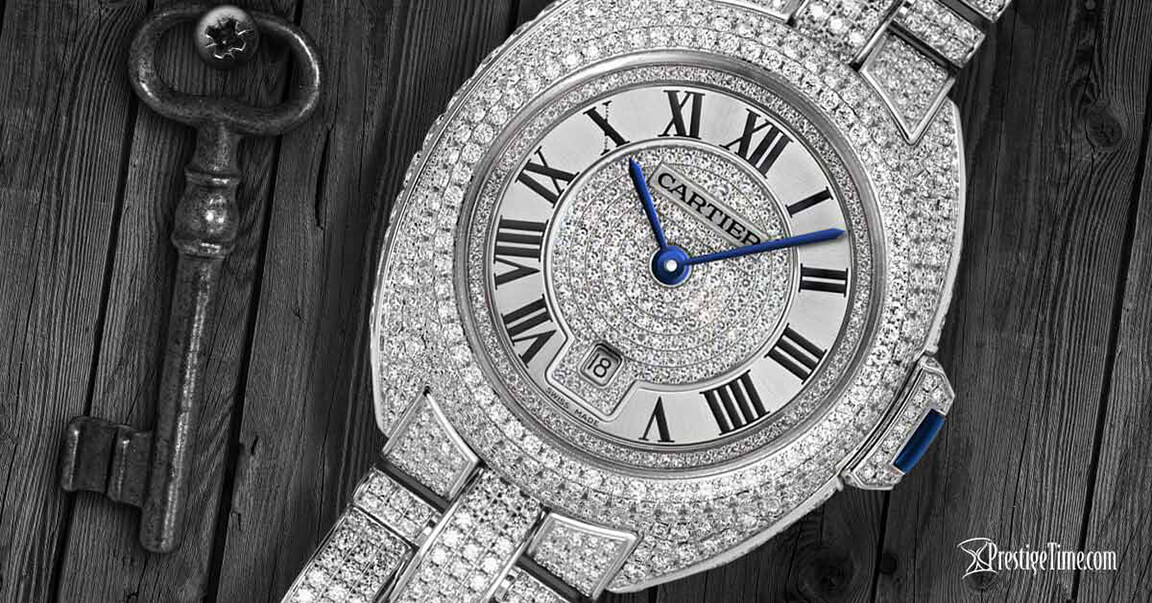 Brand Recognition
According to a 2020 report on the most valuable brands from Forbes, Cartier has over 6 billion in annual revenue and has a brand value of $12.2 Billion. It also ranks as the 56th most valuable brand in the world. BVLGARI, on the other hand, doesn't appear on this list at all but that doesn't change the fact that they are a major brand and a valuable one at that.
According to a study by Statista, Bvlgari has a brand value that in the last few years was at 4.613 Billion Euros ($5.412 Billion at the time of writing this). While BVLGARI didn't make it to the top 100 brands list by Forbes the way Cartier did, they are #45 on the top 50 most loved brands in Europe according to a report by Netbase. However, this same report shows that Cartier is still outranking BVLGARI at position #32.  Seeing as these are both highly popular brands, if you were wearing one of their watches people would notice it. However, Cartier may get noticeably more attention.
Sources & Citations: Netbase   |   Statista   |   Forbes
Horology & Craftsmanship
Cartier and Bulgari have made their own contributions to the art of watchmaking. They also do it with tremendous style!  They each have a wide range of watches with hundreds of models from which to choose. They also both produce pieces with hand-wound, self-winding, and quartz (battery-powered) watch movements. In just about any collection from these watchmakers, you can find pieces in both stainless steel as well as precious metals such as gold. In terms of ornaments, many will also have diamond bezel rings that accentuate the beauty of the piece.
Many similar high-end jewelers such as Tiffany, Harry Winston, and Van Cleef Arpels have made their way into watchmaking. That said, both manufactures in this comparison, like several other luxury jewelers/watchmakers, have created not just very bejeweled watches but high-complication watches, mechanical marvels, if you will. These often combine multiple complications such as Tourbillons, Chronographs, Retrograde, Perpetual Calendar, Grande Sonnerie, Petite Sonnerie, Moonphase, Power Reserve Indicators, and such.
Both brands are keen on creating ultra-thin watches too. Cartier has watches such as the Cartier Drive Extra-Flat which is powered by an ultra-thin hand-wound movement measuring only 2.1mm thick. BVLGARI created the Octo Finissimo Tourbillon Automatic, a highly complicated watch with a flying tourbillon movement called the Caliber BVL 288 measuring at only 1.9mm thick with a case thickness of only 3.95mm which is absolutely, insanely thin.
Both have beautifully crafted, decorated, and finished movements. Both BVLGARI and Cartier watches are impeccably designed. Cartier watches tend to have more of a traditional look while BVLGARI watches have always had a more avant-garde design to them with an aesthetically innovative look. You can use the buttons below to browse the collections to see the aesthetic differences between these two brands.
Price
An entry-level Cartier watch at the cheapest price would be a model with a quartz movement called the Cartier Tank Solo Quartz starts at a list price of $2,480. An entry-level mechanical model would be the Cartier Ronde Solo Automatic 36mm which has an MSRP of $3,250.
Their most expensive watch at the time of writing this article is the Cartier Secret Phoenix Décor watch which has a price tag of $2.76 million dollars, 3010 diamonds, and a total diamond weight of 80.13 carats.
An entry-level BVLGARI watch at the cheapest price would be a Bulgari B.zero1 Quartz 23mm which has a list price of $2,850. The least expensive automatic watch model from this brand is a BVLGARI BVLGARI CarbonGold Automatic 40mm which has an MSRP of $2,900.
The most expensive BVLGARI watch as of writing this article is the diamond Men's Automatic Octo Tourbillon at $734,000. It has a fully diamond-paved dial, diamond-set buckle, and diamond-paved case. It has a total of 484 diamonds with a total diamond weight of 19.57 carats.
Resale Value
Most people don't think of selling a watch before they even buy it. However, on very high-end watches, it's something worth considering and for numerous reasons. For example, if you chose to trade-up your watch for a new watch. If you plan on selling it or even keeping it in the family as an heirloom.
Many variables influence the resale value of a pre-owned watch. Things such as the condition it's in, the make and model, the edition (limited edition, special or numbered edition), if it comes with the original box and documentation, the remaining warranty period (if any), if the watch was ever serviced, if so where the watch was serviced.  Many more things go into consideration during the valuation of a pre-owned watch. However, some brands have a higher average resale value than other brands.
BVLGARI VS CARTIER: Which holds his value best? Cartier watches have a higher average resale value than BVLGARI watches. Use the buttons below to browse watches from either of these two fine brands.